Texas State team named national runner-up in advertising competition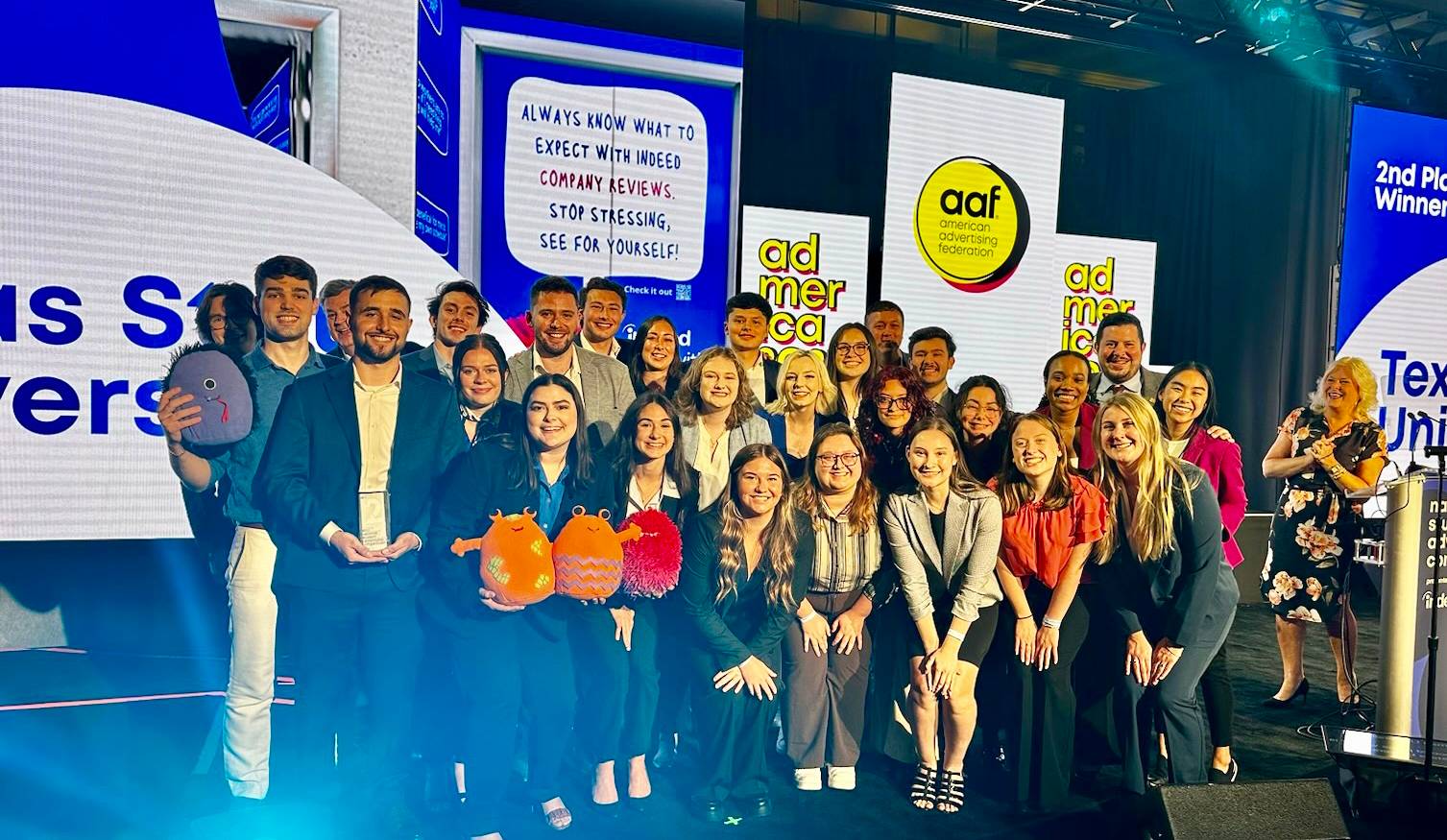 Texas State University placed second in the nation at this year's American Advertising Federation's (AAF) National Student Advertising Competition (NSAC) in St. Louis June 3-4.
Nearly 100 schools across the country participated in this national competition. This is the second time in the past four years that Texas State has finished in the top two nationally.
This year's competition was sponsored by Indeed, which challenged students to develop an advertising campaign for U.S. adults aged 18-24. Texas State's "Click with Courage" campaign was named one of the best creative strategies and most memorable campaigns of the competition.
"This was an amazing group of students. They are intelligent, compassionate and they had an amazing team chemistry. They truly embody the strength of our advertising program. This was a special moment for them and for our university," said Michael Devlin, associate professor in the School of Journalism and Mass Communication and NSAC team advisor. "This is our second national finish in four years, which demonstrates that our approach to emphasizing strategic and creative thinking is setting a standard in producing quality work and ensuring our students are career ready."
"I absolutely wouldn't change a thing about this campaign, this experience or our program," said returning senior Kaitlynn Turner, the team's executive creative director. "I genuinely feel like the most meaningful wins this week were in seeing the level of support we had. Not just from the faculty and university, but from District 10, the professionals and encouragement from alumni."
This year's team consisted of students in advertising, public relations, communication design and marketing from the School of Journalism and Mass Communication and the Department of Marketing. Faculty and staff in the College of Fine Arts and Communication and the McCoy College of Business supported the students.
The work was divided across the fall 2022 and spring 2023 semesters. In the fall, marketing and advertising students conducted research and articulated the business strategy for the spring class, which then developed the media and creative strategy. The fall advisors included Rick Wilson, an associate professor in the Department of Marketing, and Mike Dollen, a lecturer in the advertising program. The spring advisors included Mike Devlin, a Texas State University System Regents' Teacher and associate professor in the advertising program, and DeeAnne Vickery, an adjunct professor in the advertising program.
For more information about the student team, visit aaftxstate.com/nsac2023.