Texas State physical therapy students serve patients in Costa Rica on study abroad trip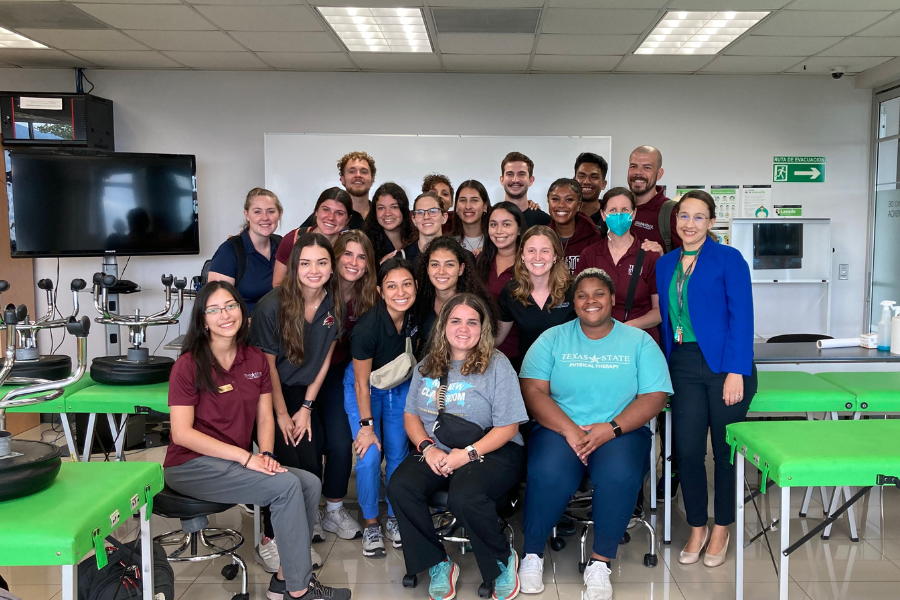 Undergraduate health science students and physical therapy graduate students from Texas State University journeyed to Atenas, Costa Rica to participate in an interprofessional, service-learning, study abroad program.
Nineteen students traveled to Costa Rica in January, where they lived with host families and were fully immersed in the Spanish language and Costa Rican culture. They learned and practiced Medical Spanish (language for medical personnel communicating with Spanish-speaking patients) in multiple healthcare settings. The group visited Clinica del Dolor, an outpatient pain clinic, and Casa del Adulto Mayor, a community adult day clinic. Under the supervision of local physical therapists, students led group exercise sessions and performed walking and balance assessments to determine clients' risk of falling.
Participants studied the Costa Rican healthcare system and toured Universidad Latina de Costa Rica to learn about healthcare education. They embraced Costa Rican wellness by visiting a local farmers market and the El Toledo coffee plantation, where they learned about sustainable farming. Students also learned how to cook a traditional Costa Rican meal and dance typical Costa Rican dances.
Most importantly, students on the trip personally experienced the challenges that come along with being fully immersed in a language and a culture that is not familiar," said Suzanna Okere, Academic Program Director for the Department of Physical Therapy study abroad program. "Students returned with a much better appreciation for the challenges and frustrations our patients who speak Spanish face in the English-speaking healthcare system. These students will improve the quality of care they deliver to patients who speak Spanish, because they can relate to these patients better, having personally experienced the same challenges and frustrations."
This service-learning study abroad program emphasizes diversity and inclusion. In 2023, over 50% of the students participating in this study abroad program were racial and ethnic minorities, well above the national average of 30%. Funds raised during the TXST College of Health Professions annual Pura Vida 5K and Wellness Event provide scholarships to encourage the participation of students from all socioeconomic backgrounds.
The group was led by Dr. Suzanna Dougherty Okere, Clinical Associate Professor in the Department of Physical Therapy at Texas State. Dr. Okere is a licensed physical therapist who teaches anatomy and researches the cultural competence of student physical therapists. Dr. Okere collaborates with Dr. Damian Rodriguez, Clinical Assistant Professor in the Department of Physical Therapy. Dr. Rodriguez teaches neurologic physical therapy and is a supervisor in the student-run Texas State Community Access Clinic on the Round Rock Campus, which provides pro-bono physical therapy services to uninsured or underinsured clients in the local community.