Clemente Guzman's celebration of river life selected for 2021 Texas Book Festival poster art
Anna Huff | November 8, 2021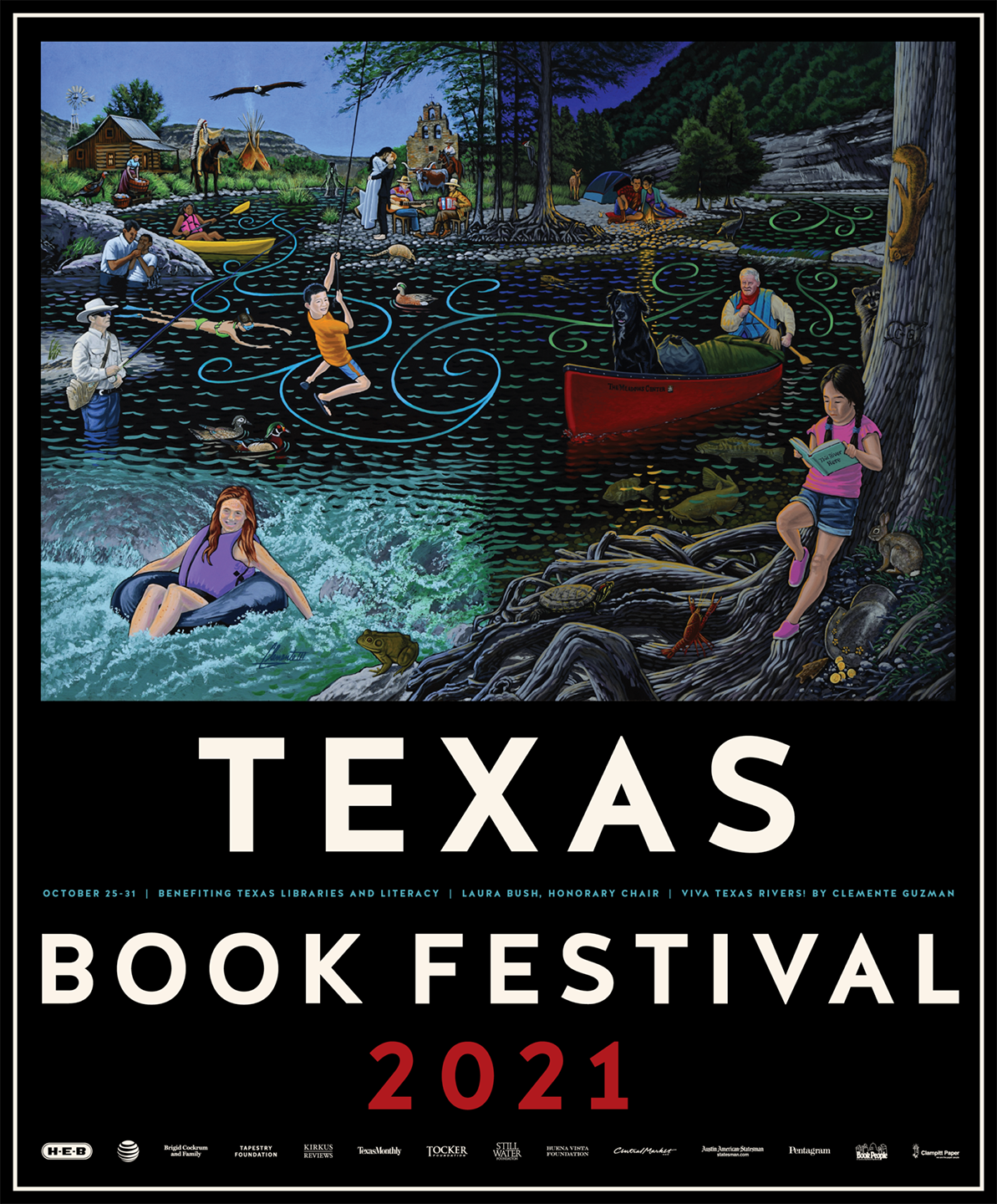 The Texas Book Festival selected a painting titled Viva Texas Rivers! by San Antonio-based artist Clemente Guzman as the featured poster art for the 26th annual Texas Book Festival, held in Austin Oct. 25-31, 2021.
The artwork celebrates the state's life and culture on the banks of Texas rivers and features a cameo of Andrew Sansom, founder of The Meadows Center for Water and the Environment at Texas State University.
During his Texas Book Festival interview, Guzman said his inspiration for the artwork focused on highlighting the critical role that the state's rivers play in bringing Texans together.
Guzman's artwork also serves as the cover of a Texas A&M University Press book Viva Texas Rivers! Adventures, Misadventures, and Glimpses of Nirvana along Our Storied Waterways, which was published in partnership with The Wittliff Collections Literary Book Series and The Meadows Center River Books Series.
"I would like to thank the co-editors Steve Davis and Sam Pfiester of The Wittliff Collections at Texas State University for their leadership on this publication, which will educate readers and inspire a love of the rivers that flow through Texas," Sansom said.
The book is an illustrated treasure trove of stories, poems and essays from dozens of Texas literary voices, past and present, exploring their personal connections with the Lone Star State's waterways.
The upcoming release of Viva Texas Rivers! continues a successful nine-year partnership between The Meadows Center and Texas A&M University Press. Since 2012, The Meadows Center has fundraised support for two book series with Texas A&M University Press that focus on conservation leadership and river stewardship, the River Books Series and the Kathie and Ed Cox Jr. Books on Conservation Leadership Series.
With more than 34 titles spanning subjects from climate science to flash floods, both series have become an important research resource by nationally recognized leaders in the conservation movement and a highly sought-after source of information and inspiration in the outdoor field for students, conservation leaders, fish and wildlife managers and more.
"We believe that knowledge is power and a greater understanding of complex issues often sparks hope and action," Sansom said. "The Meadows Center's book series does not shy away from hard topics and issues related to water and environmental stewardship, but covers them with an emphasis on hope, action and what's possible."
Rapid population growth, land development, climate change and other factors are intensifying stresses on water and the environment over the next 50 years. Confronting the state's staggering environmental threats requires not only new solutions but new ways of thinking.
As a leader in water and environmental management topics in Texas and beyond, The Meadows Center utilizes its book series to catalyze thoughtful dialogue and to foster public understanding of the grand challenges at the nexus of water, environment and people in Texas and the broader world. Books in each series examine, in a variety of ways, relationships and points of intersection among natural, biological and applied sciences as well as literary and visual arts.
To browse all of the titles from the Meadows Center's book series, visit www.meadowscenter.txstate.edu/Publications/Books. And, to help the Meadows Center continue this important work and to bring a book to life for Texas rivers, consider donating to the Headwaters Fund online at www.meadowscenter.txstate.edu/Donate.html.
About Texas State University
Founded in 1899, Texas State University is among the largest universities in Texas with an enrollment of 37,910 students on campuses in San Marcos and Round Rock. Texas State's 214,000-plus alumni are a powerful force in serving the economic workforce needs of Texas and throughout the world.