Texas State University Named Fulbright HSI Leader by the U.S. Department of State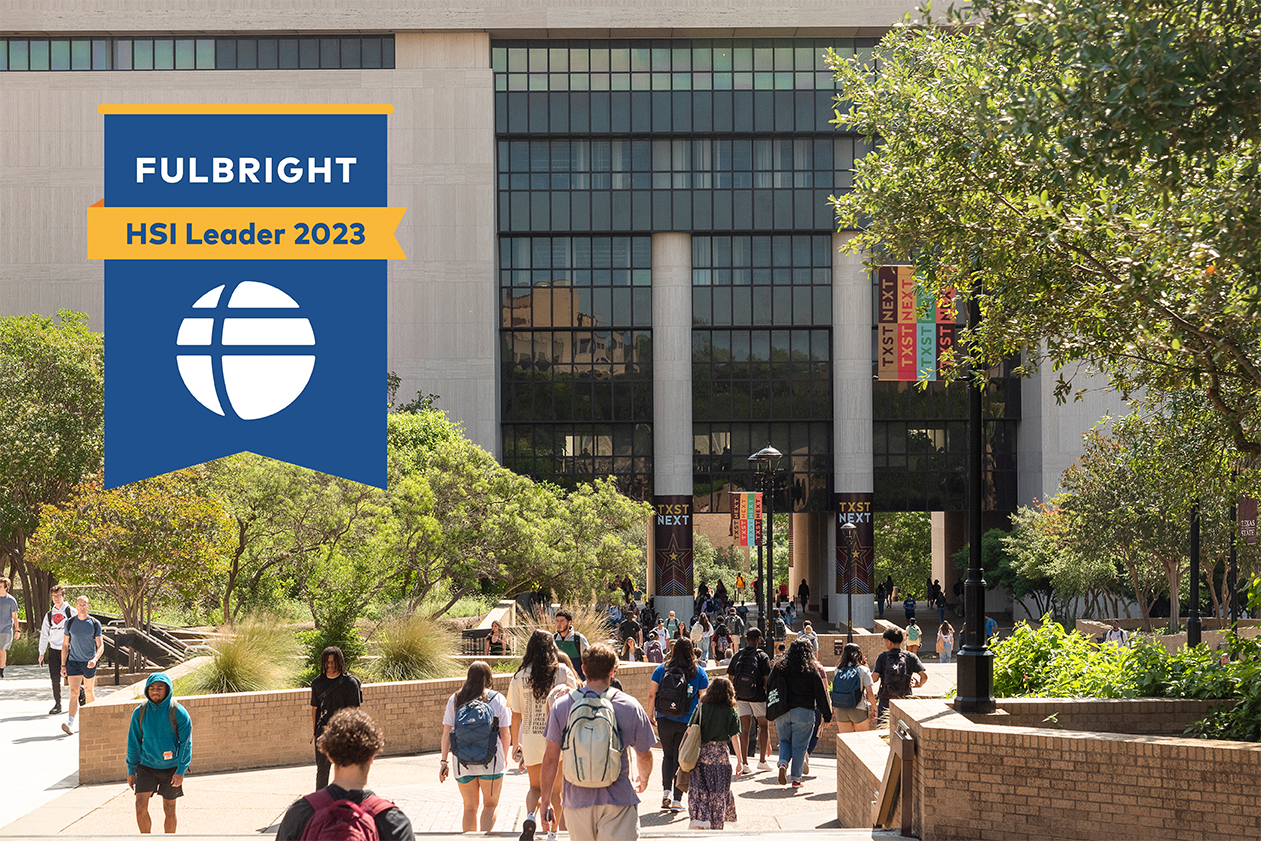 Texas State University has been named as a Fulbright HSI (Hispanic-Serving Institution) Leader for 2023. Each year, the U.S. Department of State's Bureau of Educational and Cultural Affairs (ECA) recognizes the strong engagement of select HSIs with the Fulbright Program, the U.S. government's flagship international academic exchange program.
Fulbright HSI Leaders demonstrate noteworthy support for Fulbright exchange participants and promote Fulbright program opportunities on campus. The initiative encourages administrators, faculty and students at HSIs to engage with Fulbright and highlights the strength of HSIs as destinations for international students and scholars.
"Texas State was not born a research university or an HSI, but we have always been known for educational excellence," said Bob Vasquez, Ph.D., associate professor in the School of Criminal Justice and Criminology and chair of the HSI Community Council. "We are now integrating our mission of student success with a goal of becoming an R1-level university, and we are positioned to become the nation's premier HSI-R1.
"We are also actively working to globalize the reach of our educational and research opportunities," he said. "The Fulbright HSI Leader designation is an example of what happens when one blends a global perspective with our HSI work, our academic excellence, and our long and active participation in the Fulbright Program. The Fulbright HSI Leader designation is also a sign of Texas State's successful work toward becoming an HSI-R1."
Texas State has produced 45 Fulbright Scholars since 1965 and hosted 11 Fulbright Visiting Scholars. Currently, Palakyem Mouzou, Ph.D., from the University of Kara in Togo is Texas State's Fulbright Visiting Scholar. During the 2023-2024 academic year the university is also hosting a Fulbright Scholar-in-Residence from Bangladesh, Md. Akhtaruzzaman Khan, Ph.D.
"Texas State's Fulbright success is growing," said Brian Smith, DMA, primary Fulbright Program Adviser at Texas State. "The combination of 11 awardees for the Fulbright U.S. Student Program over the past two years (three in 2023 and eight in 2022) is as many student-level awardees as Texas State has produced over the past 12 years."
For 2022-2023, Texas State had 22 applications for the Fulbright U.S. Student Program, which is a 69% increase over the 2021-2022 award year and a 175% increase over 2020-2021. Of those 22 applications, 13 were named semi-finalists and eight were named awardees for the Fulbright U.S. Student Program.
"Working with an Education Abroad program that engaged Cambodian and Texas State students, I have seen firsthand how important international experiences are for our university," said Heather Galloway, Ph.D., dean of the Honors College. "Texas State's designation helps us to recruit even more talented students and encourages them to become global citizens."
Assistant Secretary of State for Educational and Cultural Affairs Lee Satterfield commended the institutions receiving the Fulbright HSI Leader designation this year.
"Representation matters and pairing the world-class educational opportunities that Hispanic-Serving Institutions provide with the power of Fulbright further enriches the experience and educational opportunities for students and scholars both at home and abroad," Satterfield said.
On Nov. 9, the U.S. Department of State will host a virtual workshop featuring representatives from Fulbright HSI Leaders to share best practices to engage and support students and faculty, increase the global footprint on campus through the Fulbright Program, host international Fulbright students and scholars, and build international networks. This event is open to the public and is specifically designed for faculty, staff, and stakeholders at HSIs.
The Fulbright Program is the U.S. government's flagship international academic exchange program with a longstanding commitment to diversity, working to ensure that participants reflect the U.S. and societies abroad. The Fulbright Program works closely with the Hispanic Association of Colleges and Universities (HACU) to promote international exchange opportunities to staff, students, and faculty at HSIs. This year's Fulbright HSI Leaders were announced at the HACU Annual Conference. Fulbright also works with Historically Black Colleges and Universities, the National Clearinghouse on Disability and Exchange, the American Association of Community Colleges, Diversity Abroad and many more organizations.
The Fulbright Program is the U.S. government's flagship international educational exchange program. Since 1946, the Fulbright Program has provided more than 400,000 students, scholars, artists, and teachers from all types of institutions the opportunity to study, teach, and conduct research abroad. Fulbrighters build connections, gain experience, exchange ideas and address global challenges.
Fulbright is a program of the U.S. Department of State, with funding provided by the U.S. government. Participating governments and host institutions, corporations and foundations around the world also provide direct and indirect support to the program.
Learn more about Fulbright at https://fulbrightprogram.org, including information about Fulbright's efforts to further DEIA within the program and about the Fulbright HSI Leaders initiative.
Follow the Fulbright Program's social media accounts and websites for highlights on HSIs and Fulbright: