College of Education meets teacher credentialing needs with new online program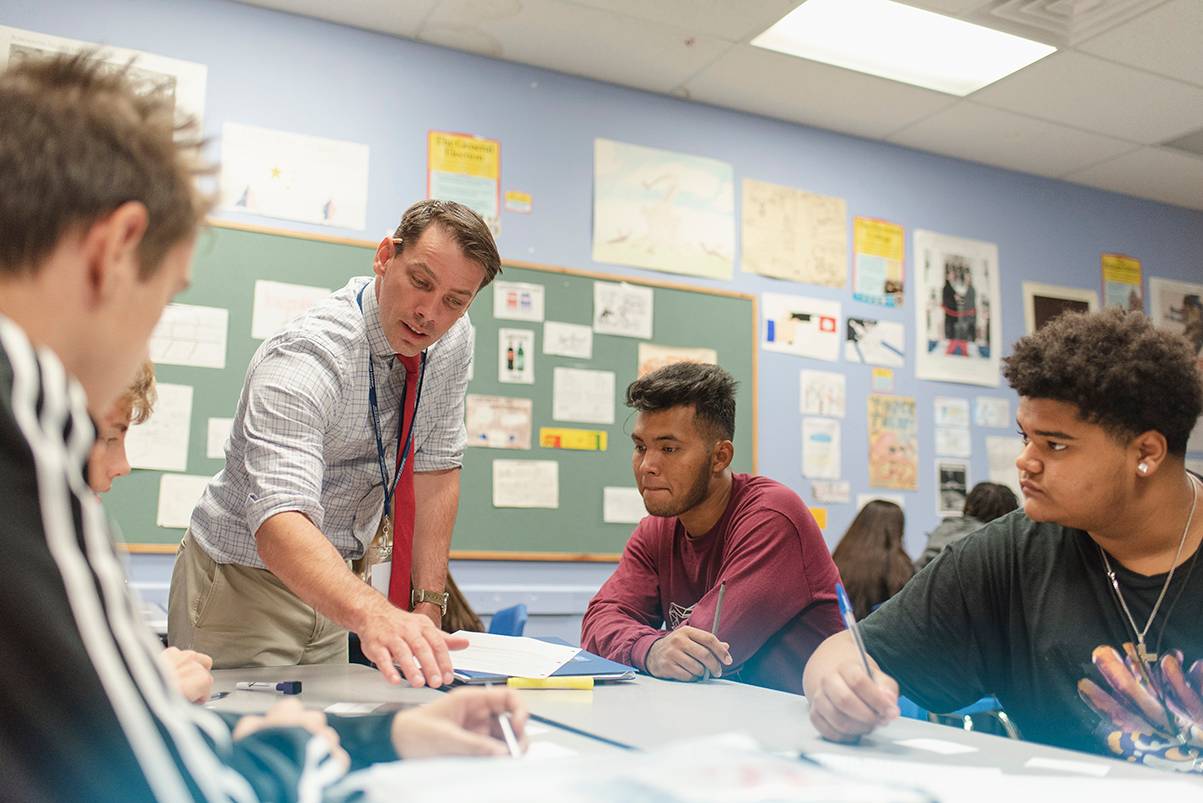 School districts across Texas face a demand to hire more state-credentialed teachers to teach popular advanced academic courses. Texas State University's College of Education aims to help address that need with the new fully online Master of Education in Secondary Education — Teaching Advanced Academics Concentration.
The program, which launches in Fall 2023, is designed for practicing teachers seeking a graduate degree with qualifications to teach advanced academic courses in history, math, English, or government at the high school level. Students in this interdisciplinary program will complete 18 semester hours in secondary education and 18 hours in a content subject area. The online learning approach is intentional to ensure teachers already in the profession can pursue the degree while continuing to work in schools across the state.
Dr. Joellen Coryell, associate dean for educational partnerships and enrollment for the College of Education, said increasing student access to dual credit and advanced academic courses in high schools is paramount to students, families, and Texas State University.
"This fully online program is really exciting," Coryell said. "It was collaboratively designed by professors, community colleges, and high schools to provide access to teachers around the state to become credentialed and uniquely skilled to teach dual credit and other advanced academics courses."
The program focuses on three key areas: preparing educators to teach college courses to high school students who are developmentally in a different place than college students; knowledge and skills for teaching excellence in dual credit/early college high school; and best practices for implementing and leading dual credit and early college high school programs to help secondary school students successfully advance towards their bachelor's degree.
Dr. Jeffry King, secondary education program coordinator and graduate advisor in the Department of Curriculum and Instruction, said the program prepares teachers to become an integral and essential part of their districts' post-secondary efforts.
"This program recognizes that teaching advanced academics is more than credentialing to teach college courses," King said. "It involves developing a specific skill set to support high school students to succeed both academically and socially in a space traditionally reserved for college students."
Many school districts offer advanced academics programs that allow students to receive college credit while still in high school through standalone dual credit courses, comprehensive college and career readiness early college high school models, or international baccalaureate programs.
"Theirs is a unique space with one foot in high school and the other one in college," King said. "I believe high school teachers are well-positioned to enter this space with students, and this program can provide them with the necessary skills to do so successfully."
To assist teachers wanting to teach advanced academics, for Fall 2023, the College of Education is offering Scholar-Practitioner Fellowships in Advanced Academics ($4,000) to provide financial support to the first fully online cohort in the program. Those wanting to learn more about the requirements and expectations of the fellowship can visit the application website.
To learn more about teaching advanced academics, visit the program website, or email education@txstate.edu.