Texas State renames two residence halls on San Marcos Campus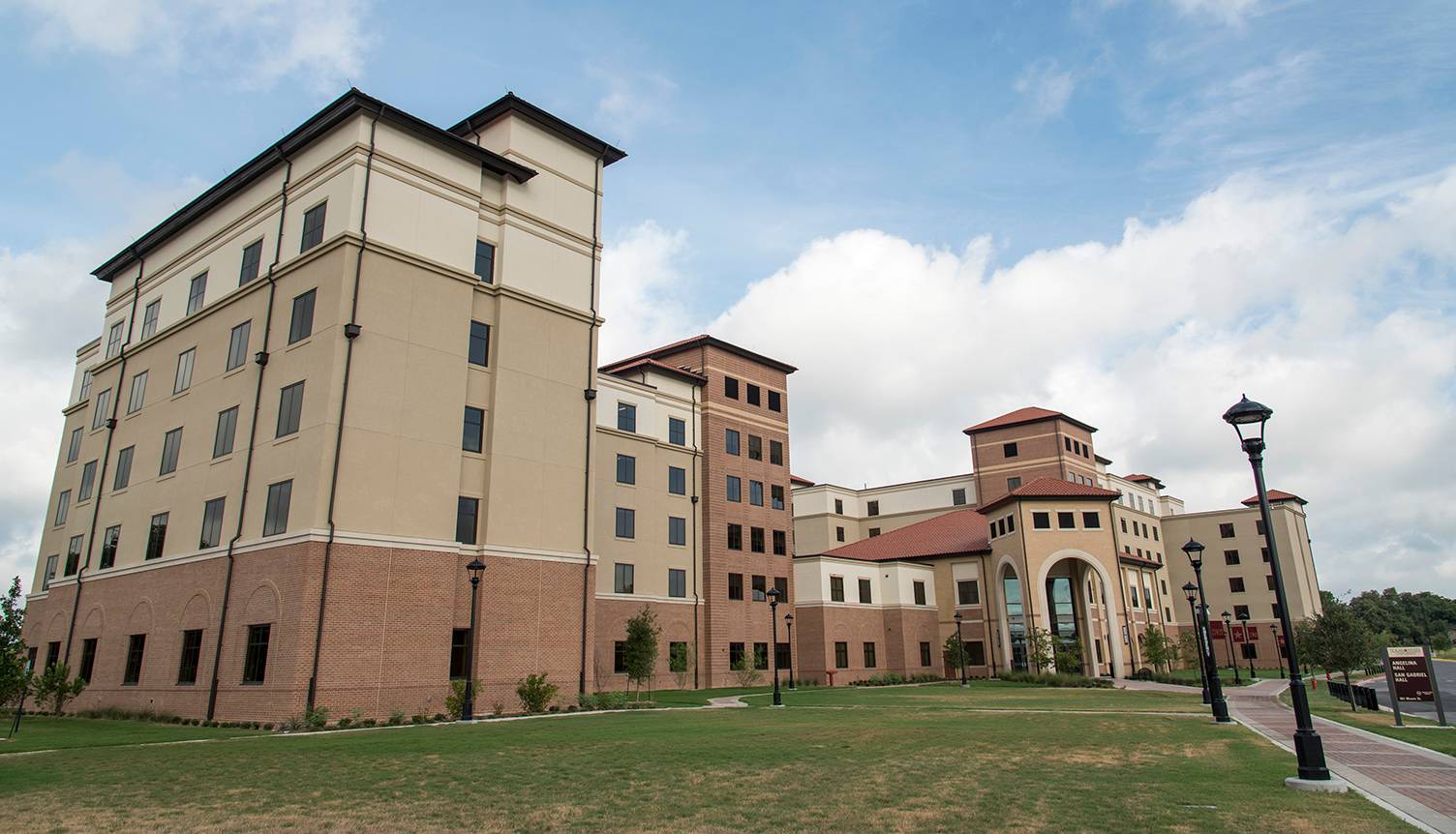 On Friday, Nov. 12, Texas State University renamed two residence halls on the San Marcos Campus in honor of the five Black women who integrated Texas State in 1963, and Elena Zamora O'Shea, the first known Latina student to attend Texas State in 1906.
Angelina Hall was renamed First Five Freedom Hall and San Gabriel Hall was renamed Elena Zamora O'Shea Hall.
The ceremony asw held at 10 a.m. in First Five Freedom and Elena Zamora O'Shea Halls. The residence halls are located at 951 Moore Street. Surviving members of the First Five and representatives of the honorees' families were in attendance.
First Five Freedom
In summer 1962, Dana Jean Smith, an 18-year-old Black woman, applied for admission. A graduate of Austin's Anderson High School, Smith was academically qualified to enroll but President John G. Flowers responded in a letter that her application was rejected because of a whites-only provision in the college charter and that only an act of the state legislature or a court order could enable her admission. San Marcos resident Mabeleen Washington subsequently received a similar letter following her application. On Feb. 4, 1963, U.S. District Judge Ben H. Rice Jr., signed a court order ending segregation at Texas State. By 3:15 p.m. that day, Smith and Washington, along with two other Black women from San Marcos—Georgia Hoodye Cheatham and Gloria Odoms Powell—had registered for classes. The following day, Helen Jackson Franks, a sophomore transfer from Huston-Tillotson College, also enrolled. Individually, the "first five" have been active at the local and statewide level, contributing time and talent to various non-profits.
Elena Zamora O'Shea
O'Shea attended Texas State in 1906 and the summers of 1911 and 1917. In 1895, at the age of 15, she began teaching children at a ranch in Hidalgo County. Understanding that she would eventually need a teaching certificate, she left home to attend school in San Marcos. She also attended the normal school in Saltillo, Nueva Leon, and the Univeridad Nacional Autonoma de Mexico in Mexico City. She went on to teach in Alice, serving as the school's principal and remaining involved in education for 23 years. In 1912 she married Daniel O'Shea, a stonemason who immigrated to the United States from England. Her belief in the importance of education, directly and indirectly, influenced a number of family members to enter the field of education. O'Shea was also a lay-historian, authoring the book El-Mesquite, a fictionalized account of Mexican settlers between the Nueces and Rio Grande Rivers from 1575 to the early 1900s. The book is considered a major contribution to Mexican American literature and Texas letters.
Texas State previously named two streets on the Round Rock Campus Adolfo Barrera Drive and Elvin Holt Drive, in honor of Adolfo "Sonny" Barrera, a former university administrator, for his work in multicultural programming, and Elvin Holt, the first Black professor in the Department of English, for his work in multicultural curriculum development.
The Naming Task Force was established in September 2020 to recognize the contributions of distinguished individuals from the Hispanic/Latinx and Black communities to the university. The task force solicited more than 40 naming suggestions from Texas State students, faculty, staff and alumni, then forwarded recommendations to the Council for Inclusive Excellence for review and feedback. A final list of names was presented to Texas State President Denise M. Trauth and the Presidential Cabinet for final selection.
The task force was co-chaired by Scott Bowman, associate professor in the School of Criminal Justice and special assistant to the Provost for inclusion and diversity, and Gloria Martinez, professor in the Department of Sociology, director of the Center for Diversity and Gender Studies, and director of the Latina/o Studies Minor.
About Texas State University
Founded in 1899, Texas State University is among the largest universities in Texas with an enrollment of 37,910 students on campuses in San Marcos and Round Rock. Texas State's 214,000-plus alumni are a powerful force in serving the economic workforce needs of Texas and throughout the world.