Texas State, Lone Star College launch partnership for elementary teacher education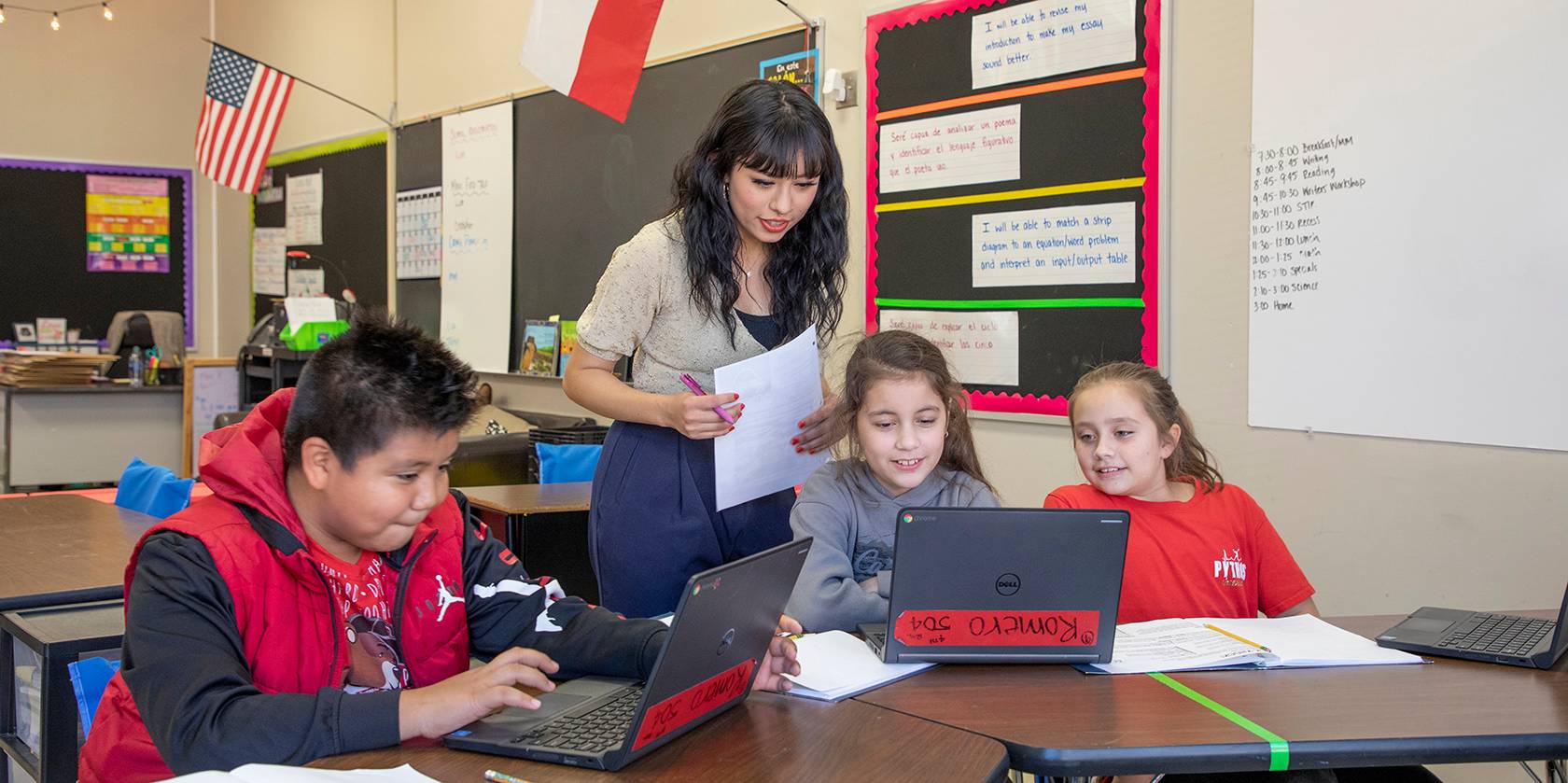 Texas State University and Lone Star College have signed an agreement establishing a program-to-program partnership for elementary teacher education.
The initiative streamlines the process for future elementary teachers who begin their education at Lone Star College to complete their degree at Texas State. Lone Star College, serving the Houston area, is the first to join the partnership with Texas State, but more community colleges across the state are anticipated to participate in the future.
"It's a partnership that creates a smooth alignment for teacher education students coming from Lone Star," said Michael O'Malley, dean of the College of Education at Texas State. "We're now collaborating and working together on the preparation of quality teachers for Texas."
One of the major hallmarks of the partnership is that it creates an alignment of coursework, ensuring that the coursework Lone Star students take in their teacher preparation track will seamlessly transfer to Texas State.
"With a streamlined plan like this, the Lone Star students should arrive more on-point with the courses they need that we can place into the degree," O'Malley said. "That should enhance time to degree completion and keep them on track for graduation at the same rate as the students who started at Texas State as freshmen."
The partnership goes beyond course transfer credit. The faculties from the two institutions are working together to align the curriculum, giving Texas State faculty insight into how the Lone Star faculty is preparing future teachers, and vice versa. That improved understanding between the two parties is resulting in a vision for teacher preparation that is more shared, more aligned and more collaborative going forward. In addition, Texas State offers transfer student navigation through our world-class advising center and Project Maestros, which is focused on transfer student needs and success. These services assist interested LSC students in discussing degree requirements, the application process, campus resources, and ongoing professional development opportunities.
Plans are in the works for Texas State faculty to offer seminars to Lone Star students in teacher education along with freshmen and sophomores at Texas State who have not yet started taking their teacher education courses. These seminars will bring the students together and engage them, introducing them to concepts and timely needs for PK-12 education in Texas.
"An example of these seminars might be the possibilities and opportunities for working with emergent bilingual learners," O'Malley explained. "What do we know about the opportunity to support children that are speaking a world language and learning English as another language? How can we do this in a way that really has an impact for these students in the K-12 schools and for their families and their communities? While we have strong Bilingual Education and English as a Second Language teacher preparation at Texas State, this is a new initiative to collaborate in this area more directly with our community college partners, and to bring both of our first and second year students together to explore opportunities and challenges encountered in PK-12 education."
Another aspect of the program that could hold significant appeal to Lone Star students is that EC6 students—early childhood, elementary to sixth grade student teachers—have the option of completing their student teaching assignments in Houston-area districts.
"If you're a student who went from the Cy-Fair school district to Lone Star College, then completed your teaching degree at Texas State, you would have the option of going back to Cy-Fair or a district in that area for your student teaching," O'Malley said. Our strong network of student teacher supervisors and school district partnerships in the Houston area makes this a very viable plan for those who would like to student teach closer toothier hometowns; while others with different interests still have student teaching options in central Texas or elsewhere in the state."
"The big message is that we're committed to our students who arrived in San Marcos as freshmen and we're committed to our students who arrived as transfer students," he said. "We are committed to the success of all of our students."