Texas State University honors newest Heroes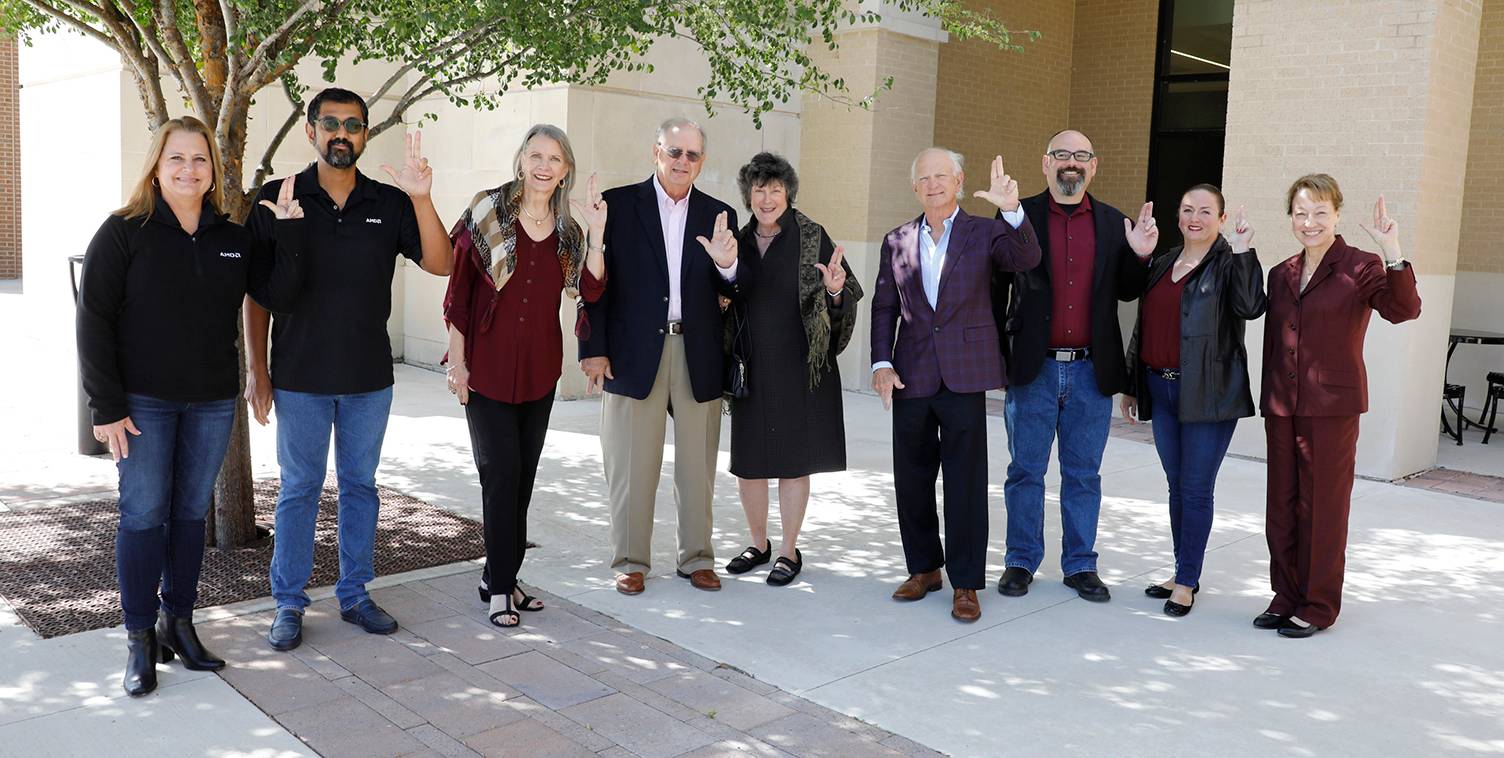 Texas State University officially recognized its newest 2020-2021 Texas State Heroes with a reception and on-field halftime ceremony during the Bobcat football game on October, 16.
Heroes are those individuals or organizations who have donated one million dollars or more to the university. It is the most prestigious honor bestowed on Texas State supporters.
"As the caliber of our research, academic programs, and student-athletes continues to rise, philanthropy is critical to our progress," said Texas State President Denise Trauth. "We are immensely grateful for our Heroes and all they do to support our students and to strengthen Texas State."
2020-2021 Texas State Heroes are:
Advanced Micro Devices which donates to support the university's physics, engineering, and computer science programs and students.
Brown Distributing Company which has supported Bobcat Athletics programs, including giving to the football locker room, training facilities, South End Zone renovations; and the University Events Center expansion.
Scott and Yvonne Emerson who have established several scholarships, professorships, and endowments, and also contributed to South End Zone renovation.
Johanna Gibson who represents the O.C. Haley Strutter Endowment which supports students participating on the famous Strutters dance team.
The Grand Prix Pipeline which established an endowment to support Texas State research focused on preserving the endangered Houston toad
The Greater Texas Foundation which supports the university's work and research to help ensure Texas students have the access and tools to complete a college education. The foundation has donated to scholarships and research across the university, including a recent grant to fund a research project in the Department of Curriculum and Instruction.
Bill and Loma Hobson who have funded scholarships and fellowships in several disciplines, including establishing scholarships for high school students from their hometowns of Edna and Sealy.
The Cynthia and George Mitchell Foundation which supports research conducted by The Meadows Center for Water and the Environment, and contributes to The Wittliff Collections.
The National Steering Committee for Concrete Industry Management which has supported the university's concrete industry management program by donating to provide scholarships for students enrolled in the program.
The Permian Highway Pipeline LLC which established an endowment to support Texas State's research focused on the conservation and recovery of the endangered Houston toad.
The Sid W. Richardson Foundation which has established endowments that support the Gilbert M. Grosvenor Center for Geographic Education and the Mathworks education program.
Dr. Alberto Santos III and Mrs. Elizabeth Santos who established an endowed scholarship to benefit student athletes.
Peter and Mary Way who donate to support research conducted by The Meadows Center for Water and the Environment.
Jim and Carol West who have given to endow student-athlete scholarships, support athletic facilities and programs, and established a scholarship in theatre and dance.