Texas State's Sigma Delta Pi earns national award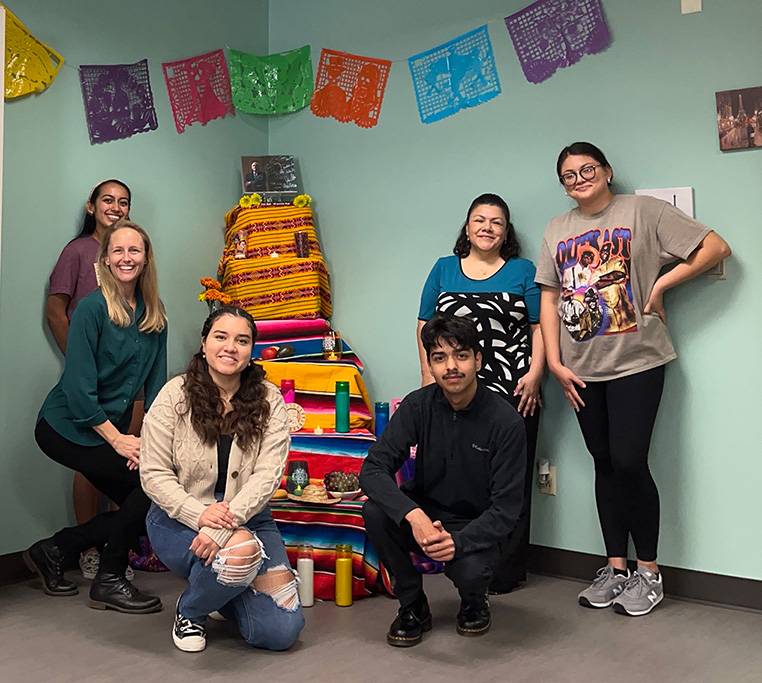 Texas State University's Chapter Beta Epsilon of the National Collegiate Hispanic Honor Society Sigma Delta Pi has been named one of 12 Honor Chapters in the U.S. in recognition of outstanding activities in 2022-23.
This marks the 18th time Texas State has earned the award, the first being in 1991.
The chapter won the award for activities and projects that reflect Sigma Delta Pi's mission of honoring excellence in the study of the Spanish language, contributing to cultural understanding, and upholding the goals of the society.
Over the course of 2022-23, the chapter:
Organized and presented a three-part Spanish-language documentary series, which drew students from across the university.
Staged a Day of the Dead Alter of the Dead in honor of Chicano author Rolando Hinojosa.
Held their first tertulia literaria, which highlighted works from poet Alfonsina Storni.
Published volume 38 of Al Principio, the chapter's magazine of poetry, prose, and photography, featuring 45 authors who contributed poems, short stories, photographs, and literary translations.
Held two initiation ceremonies welcoming 13 new members.
Alexandra Gonzenbach Perkins, Ph.D., faculty advisor of the chapter and associate professor of Spanish, attributes the accomplishments of the chapter to the students' enthusiasm for promoting Spanish culture.
"The Chapter Beta Epsilon of Sigma Delta Pi is proud to be named an Honor Chapter and to continue the legacy of Roberto A. Galván, Ph.D., who started our chapter at Texas State," Perkins said. "As the chapter's advisor, I'd like to thank our incredible students for dedicating their time and energy to promoting and celebrating the language, culture, and literature of the Spanish-speaking world. We look forward to another year of enriching, diverse, and intellectually stimulating activities for the 2023-24 academic year."
In the future, the chapter will plan events in collaboration with different university organizations, including Latin Music Studies, the Ritmo Latino Dance Company, and more.
All 634 chapters of Sigma Delta Pi are asked to submit an annual report each summer detailing what they accomplished from the previous academic year. The National Executive Committee then selects 10-15 Honor Chapters based on the details of the reports.