Doctoral student receives National Geographic Society grant to study frog fungus in the Ecuadorian forest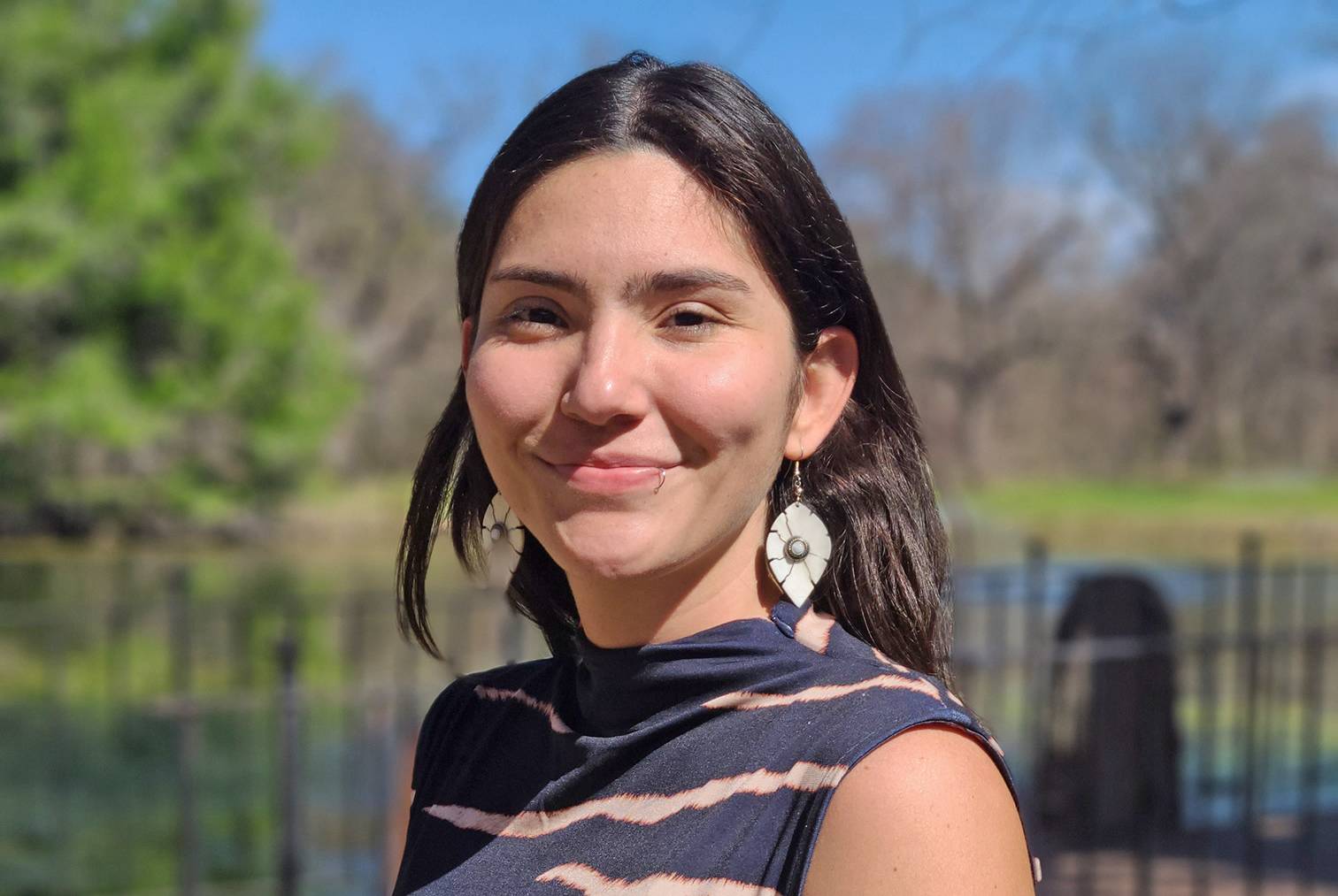 Aquatic Resources and Integrative Biology doctoral student Mar Moretta-Urdiales is the first-ever Texas State doctoral student to receive a Level 1 Grant from the National Geographic Society and earn the title of National Geographic Explorer.
The highly competitive Level 1 Grant provides $20,000 in funding for early-career researchers who have the potential and desire to make significant contributions to their field. Those who earn the grant also join the National Geographic Explorer community, a network of exceptional individuals who protect our world with their work in science, education, exploration, and storytelling.
She is the fourth person named National Geographic Explorer in Texas State history, with previous winners including anthropology professors Dr. Carolyn Boyd and Dr. Christine Conlee and marine archaeologist Dr. Christopher Horrell.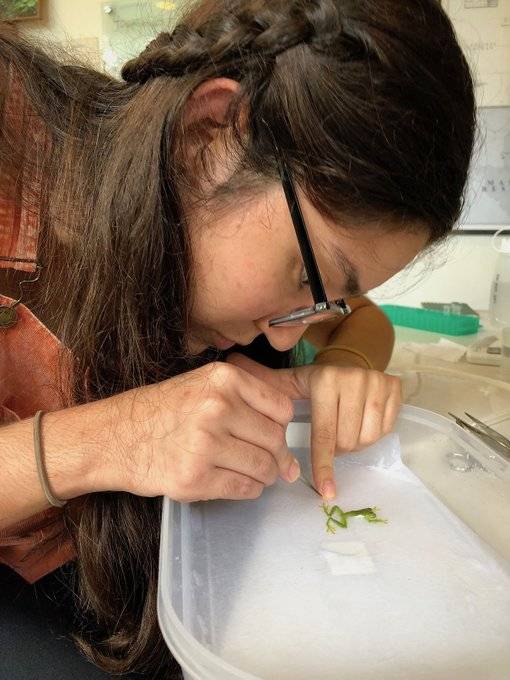 Moretta-Urdiales is researching the distribution of an aquatic fungus called Batrachochytrium dendrobatidis (Bd) in Ecuadorian forests. This fungus infects the skin of frogs through spores released into water bodies, such as ponds or rivers.
Her research strives to answer how frogs not in contact with contaminated water bodies — for example, when there is little to no groundwater during a dry season — still become infected. To do this, Moretta-Urdiales and a team of researchers travel to Ecuador twice a year to collect data from bromeliads inhabiting tree canopies that hold rainwater and may be contributing to the spread of the fungus. A bromeliad is a plant that lives on another plant rather than in the ground.
"Our hypothesis is that whenever frogs cannot find water on the forest floor, they go up and look for refuge in these plants," Moretta-Urdiales said. "Then they can leave spores of this fungus in the water, creating a new source of infection for other frogs."
She and a team of field researchers have traveled across Ecuador to collect data from these plants and frogs. She started at the Pacific Ocean coast, traveled through the Andes Mountains, and in the future will reach the Amazon rainforest. Receiving the National Geographic grant will allow her to travel to other remote places within Ecuador to gather data she previously could not access, such as a rich nature reserve in the Esmeraldas province between Ecuador and Colombia.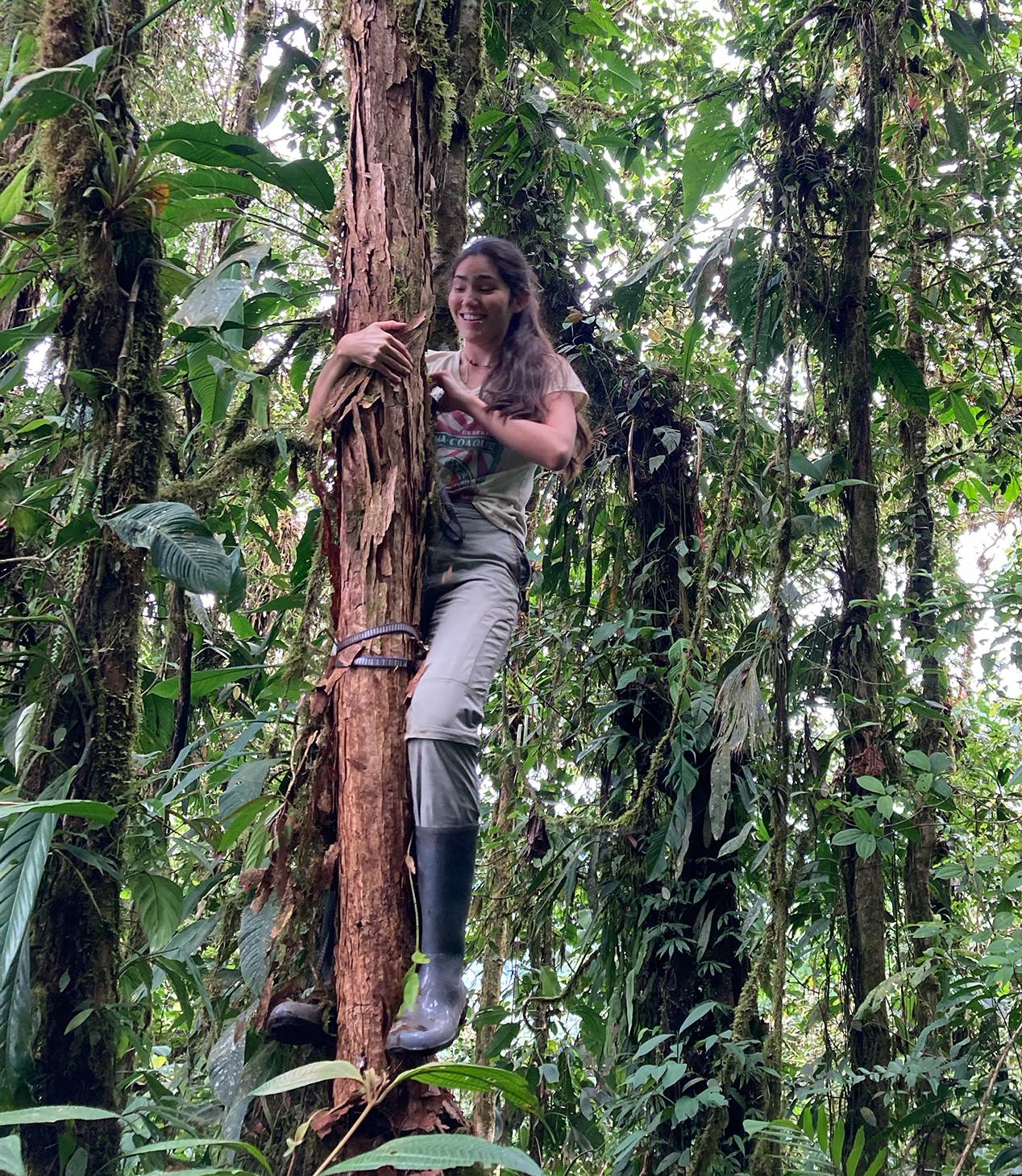 "It has a well-conserved forest. We are going there to look for the fungus on the frog skins and then also looking for the external reservoirs of Bd," Moretta-Urdiales said. "We are also going to another place in the Amazon that we weren't able to go to because it was very expensive, but now this grant is allowing that. We are going to get a helicopter to get there. We are very excited because, if not, it's 12 hours by boat going up the river to go to this place."
As a National Geographic Explorer, Moretta-Urdiales' research will have more exposure among peers and fellow scientists. She will also have access to photographers, storytellers, and other researchers.
"National Geographic gives you a bunch of access to cameras and audio/visual materials," she said. "Now I am going to be able to record the whole process of going up to the trees to highlight my work a little bit more."
Becoming a National Geographic Explorer is an accomplishment Moretta-Urdiales has worked toward since serving as an undergraduate field technician for her mentor, Dr. Becca Brunner. At the time, Brunner was a National Geographic Explorer doctoral student at the University of California-Berkeley and a Visiting Scholar in the Rodriguez Lab in TXST's Department of Biology.
Brunner "had a Young Explorer Nat Geo grant. She went to Ecuador and was also studying frogs and the distribution of this fungus," said Moretta-Urdiales, who was an undergraduate student in Ecuador at the time. "She was looking for volunteers, and I was in a part of my life where I was like, 'You know what? I am just doing science.' She said she was working with frogs, and I love frogs, so I told my mom, 'I am going!'"
Brunner was impressed with Moretta-Urdiales' work ethic and positive attitude and quickly saw her potential.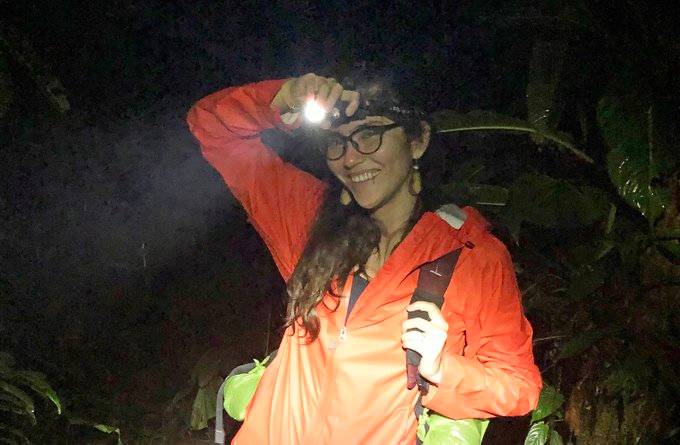 "Mar is one of the smartest and hardest working people I know. She is also extremely modest and dedicated to making a difference — a very rare combination," Brunner said.
With the support of her family, Moretta-Urdiales worked with Brunner in her home country of Ecuador and eventually was invited to come to Texas State also as a Visiting Scholar under Brunner's direction. This is where she met her current advisor and mentor, Dr. David Rodriguez, who encouraged her to apply to the Aquatic Resources and Integrative Biology doctoral program. Since joining the program, Moretta-Urdiales has worked in the Rodriguez Lab.
"Mar has made incredible strides in learning the integrative methods we use in our lab that include fieldwork, genetics, and statistics," Rodriguez said. "Beyond that, she is becoming a proficient tree climber, which is a rare and difficult skill even among field biologists. These skills cannot be accomplished passively; it takes a strong work ethic and a daily commitment to learning and improving in the face of cultural and financial obstacles."
One of Moretta-Urdiales' biggest inspirations is the people of Ecuador, who share her passion for science but have not had the same life opportunities as she has. She describes her father as an example of this.
"My dad is a 'natural scientist.' He is very curious, and to be a scientist, you have to be very curious," Moretta-Urdiales said. "I think his dream has always been to be a part of Nat Geo. Every time I am at work, and I am tired or frustrated, or I find myself in front of a wall when I am trying to analyze data, I just think about the other people whose dream is doing this, and I am doing this. I think that is what drives me."
Although Moretta-Urdiales has already made positive impacts in the Texas State community and beyond, she hopes to become a professor and influence students' lives the same way her mentors have influenced hers.
"Her dissertation work will certainly serve as a model for the execution of international research that is impactful and also inclusive," Rodriguez said. "It will undoubtedly result in several publications. Mar demonstrated incredible potential when she was a Visiting Scholar here, and even though her journey is still not finished, that potential is now beginning to be realized."
When she was a National Geographic Explorer and Moretta-Urdiales was her field assistant in Ecuador, Moretta-Urdiales insisted on telling everyone about Brunner's "Explorer" distinction because "she thought it was so cool," Brunner recalled. "I hope people address her as 'Mar Moretta, National Geographic Explorer' for a long time to come now that she has earned the title for herself."