New Stelos Scholars take a bite of the Big Apple and tackle food sustainability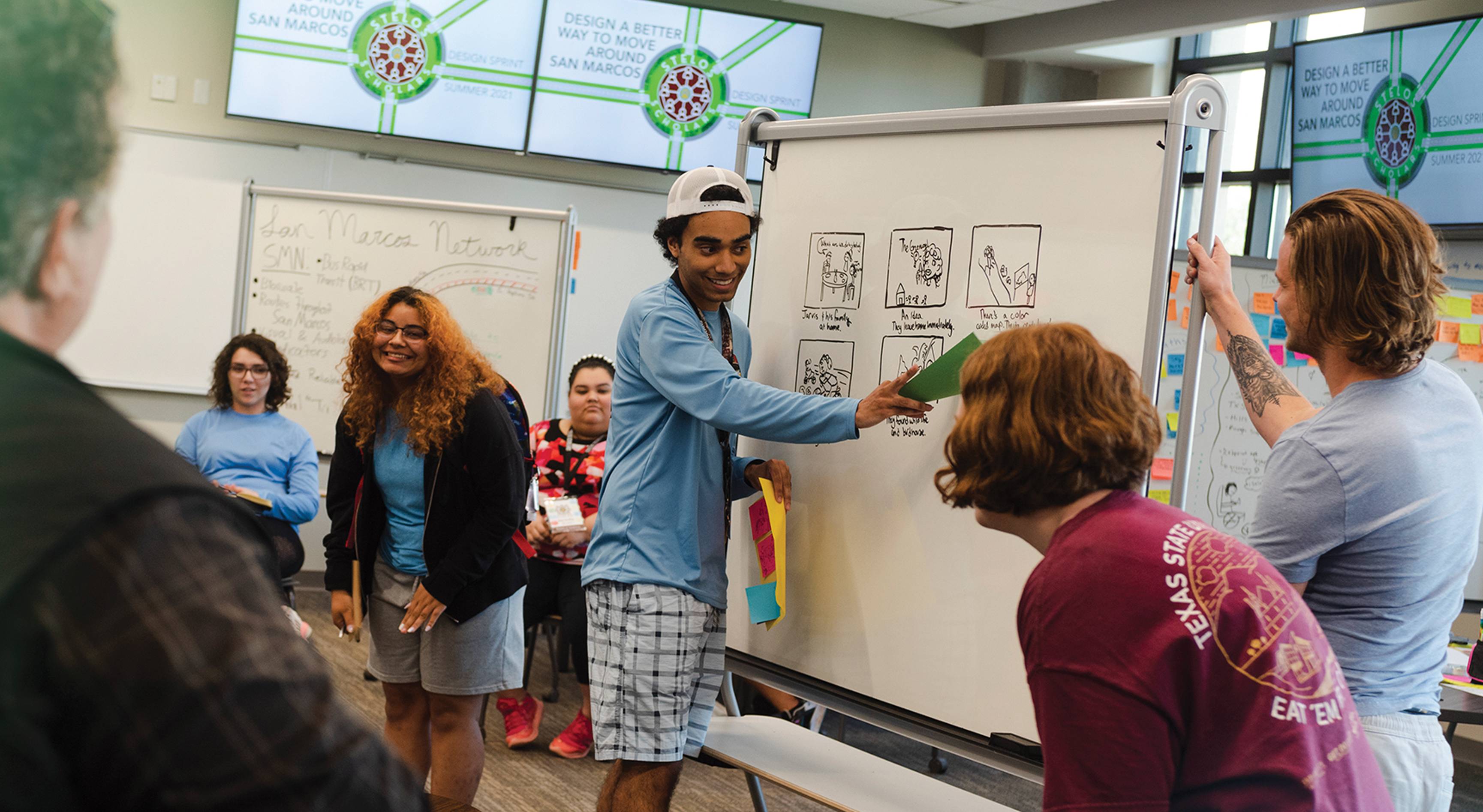 The Stelos Scholars program at Texas State University provides a two-year experience for community-minded and intellectually motivated students. Through personal involvement and mentorship from Texas State faculty, accomplished alumni, and community leaders, each scholar develops the knowledge and skills they need to reach their potential and become a leader in their profession and field of study.
In 2021, 15 undergraduate students were selected into the first cohort of scholars. Although it is open to any Texas State student, the program is housed in the Honors College, and students automatically become members of the college upon selection. Dr. Heather Galloway is Dean of the Honors College, and Dr. Peter Tschirhart is Associate Dean. Other faculty leaders for the program include Austin-based entrepreneur Bill Poston (B.B.A. '88), founder of the Stelos Alliance, a nonprofit that runs educational scholarship programs at Texas State, and Claudia Röschmann, Professor in the School of Art and Design and Associate Director for Design Innovation in the Materials Applications Research Center (MARC).
The two-year Stelos Scholars experience offers many opportunities to lead and learn beyond the traditional classroom. The program begins with a week-long design sprint during the summer. The design sprint format introduces students to a real-world problem and guides them toward a proposed solution. Along the way, they develop key competencies that hone their ability to empathize with others, define problems, generate (and iterate) ideas, and construct prototypes.
Last year's design sprint focused on transportation issues in the region. The program invited urban planning and mobility experts from across the area, and student teams responded by proposing unique solutions—from adapting bus stations to become community resource hubs, to adding rapid transit infrastructure.
This year, the 2022 workshop ran in mid-June, and it focused on "sustainable food." After arriving the first afternoon as virtual strangers, students spent two days at University Camp near Wimberley, where they completed ropes courses and team challenges that created a sense of group cohesion.
Students then joined small, interdisciplinary teams that, over the course of 5 days, proposed a project meant to improve the community's approach to food production, distribution, access, education, or consumption. Throughout the week, they learned from scientists, community organizations, analysts and businesses. Beyond daily workshops and team-building, they had a busy travel schedule of site visits: from Whole Foods corporate headquarters in Austin, to the Hays County Food Bank; from the Dunbar Community Gardens, to local Austin grocery store Salt & Time.
"We want them to experience what it's like to work with real-world stakeholders and dive deep in a complex, socially impactful issue," Tschirhart said. "We don't expect them to fix the world in a week, but we do expect them to make meaningful connections with each other and the community and have a really stimulating intellectual experience along the way."
Students also explored research underway on Texas State campuses, such as the Small Producer's Initiative and the Bobcat Farm, and engaged with the university's sustainability coordinator, Emma Parsley. At the end of the week, the scholars shared their project ideas at the San Marcos farmer's market, where they spoke with the broader community and received encouraging feedback.
Summer is a peak season for the Stelos Scholars program. The final part of the two-year program is a fully-funded group travel experience. During May of this year, the 2021 cohort traveled to New York City for ten days. During their stay, they connected with Bobcat alumni and professionals working in various fields of interest to the students. The New York trip included alumni meetings with CNN news reporter Polo Sandoval (B.A. '07); Olga Guerra (B.A. '14), education manager with Puig; Ben Noland (B.A. '90), financial services; Adrienne Enderle (B.A. '11), TV and film production; and Ernest Macias (B.A. '15), Interview Magazine.
"I am incredibly thankful to be part of the first Stelos Scholar cohort. More than giving me a community of like-minded individuals to interact with, it has also given me the opportunity to explore New York with them. I am blessed to have opportunities like this and hope to one day be able to come back and offer value to new members," said Stelos Scholar Karina Rodriguez Leal.
Right now, 20 majors and five academic colleges are represented among the first two cohorts. As the program begins to recruit its third, the faculty hope to expand its reach across campus. To be eligible, students must have at least four "long" semesters remaining at Texas State. But they should also be seeking something beyond the traditional classroom learning experience.
"Programs like the Stelos Scholars are extremely good at building a thoughtful and engaged intellectual community," said Tschirhart. "We hope that any student seeking a challenge, and a bit of adventure, will consider joining."
Applications for the next cohort will open in January 2023.