Students design mobile apps for inclusion and mobility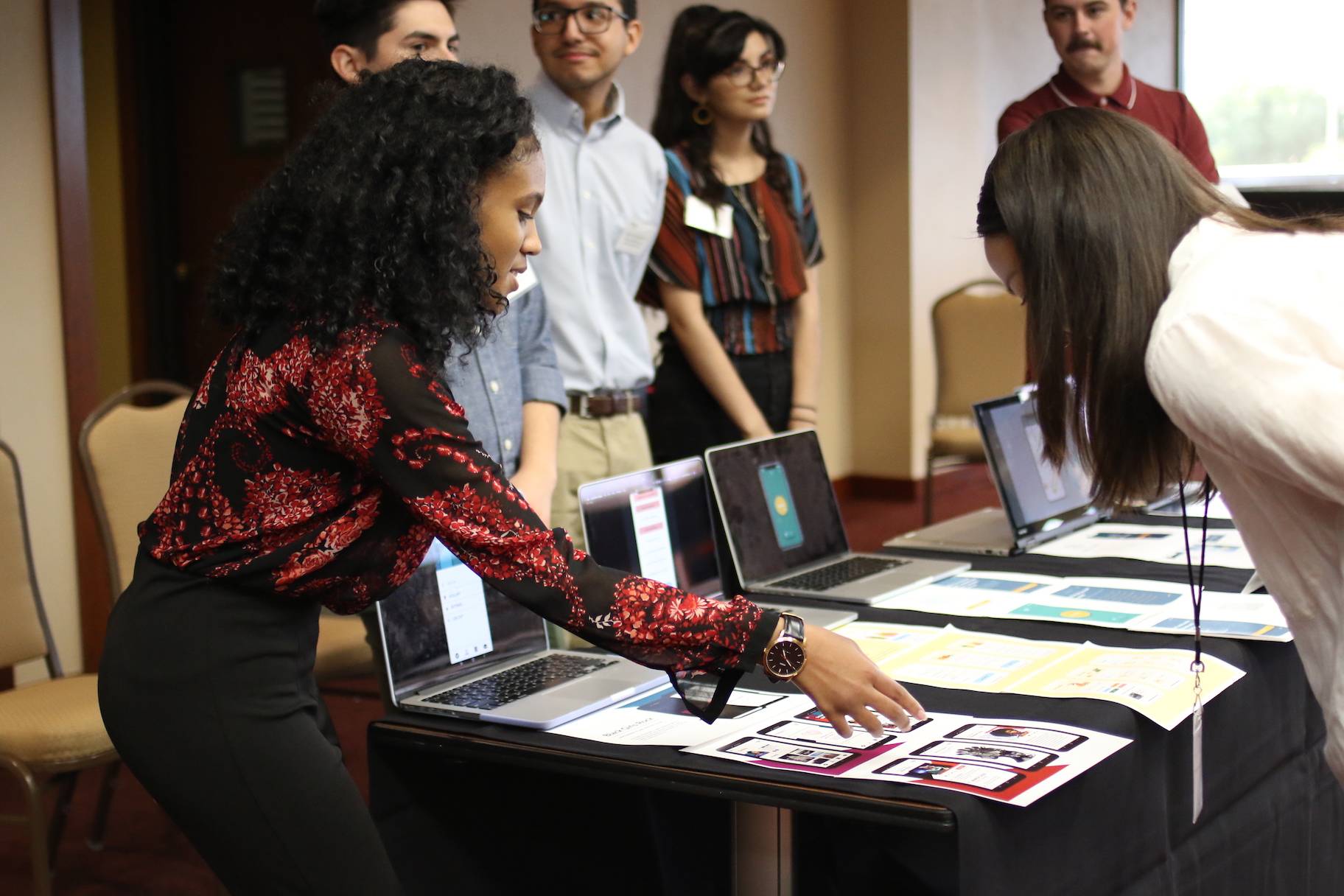 A group of students under the School of Art and Design teamed up to design different mobile apps related to inclusion and mobility. Each team member designed their own app for a specific marginalized group in mind. One of the team members, Jazmine Beatty, designed an app for the organization called Black Girls Rock!.
"Black Girls Rock! highlights African American women doing inspirational work, including celebrities and everyday people alike. Their message of empowering women of color and resonated with me because as an African American female, I understand (on a personal level) the extent of our exclusion and lack of representation," said Beatty on why she chose to design an app for this organization.
Through her research on girls from age 15-22, Beatty discovered that they had a sense of pride but also a sense of powerlessness when it came to their racial identity. Beatty determined that young girls of color needed a way to engage with others so that they could understand their racial identity and feel empowered to make a positive change. She believes Black Girls Rock! could be that positive influence.
Black Girls Rock! offers adolescent development programs, which Beatty found that 50% of people that she interviewed were not aware of. Through her app, Beatty hopes to broaden the scope of Black Girls Rock! and have their programs be accessible to young girls nationwide.
The Black Girls Rock! app will offer a social network where girls can connect with each to attend nationwide events and local workshops that incorporate topics such as leadership, academic development, civic engagement, and arts exposure. They will be able to sign up for events and workshops through the app, while also having a calendar to stay organized. Beatty believes that the most important part of her app is the racial representation.
"One unique takeaway of the app is gaining knowledge about the amazing work that women of color are doing in career fields that do not get enough attention. Through this, young girls of color can see themselves represented on a broader spectrum than ever before, and thus feel empowered and confident in their ability to accomplish their dreams," said Beatty.
The rest of the team have designed other apps tailored to inclusion and mobility. The team consists of Texas State alum Leonardo Cantoran and Isaiah Guzman. The rest of the team consists of Texas State seniors Juliana Ratchford and Logan Brannen.
Beatty and the rest of the team plan on presenting their inclusion and mobility apps at the TXST Innovation Lab. After Innovation Lab, Beatty plans on continuing her research in order to keep expanding on the app.