Clinical laboratory science student screening essential workers for coronavirus in her hometown
Madeline "Maddy" Gray, a junior in Texas State University's clinical laboratory science program, has joined a team screening for coronavirus among "essential workers" reporting to work in a large wireless communications company.
Since March 30, she has worked to cautiously check temperatures of all incoming employees and follow screening protocols.
Between her work shifts, online classes and studying, we caught up with Madeline to ask about her experience serving on the frontlines of the pandemic as a College of Health Professions student.
Q: How did you get this unique opportunity?
Maddy Gray: When I am home during school breaks to earn money, I work for a third-party logistics company providing services to one of the nation's largest wireless communications company. This company is considered essential because it provides the wireless infrastructure for the government and businesses, as well as hospitals and first responders. After classes moved online for the rest of the semester, I reached out to see if they had an open position.
At about that same time, the company learned an employee tested positive for COVID-19, so they launched additional steps to mitigate the risk of exposure. This included implementing temperature checkpoints, where each person needs their temperature checked before they are allowed to enter.
Q: How do you feel about the safety protocols?
MG: Over the past year, in the clinical laboratory science program, I have had many lessons and labs that require proper knowledge of aseptic technique, hygiene, PPE (Personal Protective Equipment), and standard precautions. I felt comfortable volunteering to be in this role to help prevent the spread of the virus.
Madeline's professor shared some safety reminders for on-the-job:

"While you are out there, BE SAFE and use proper hand washing and hygiene and be aware of high touch surfaces. It sounds like you have the proper PPE with the N95 mask, gloves and glasses. Be sure and disinfect the PPE per regulations and change gloves often." --- Dr. Rodney E. Rohde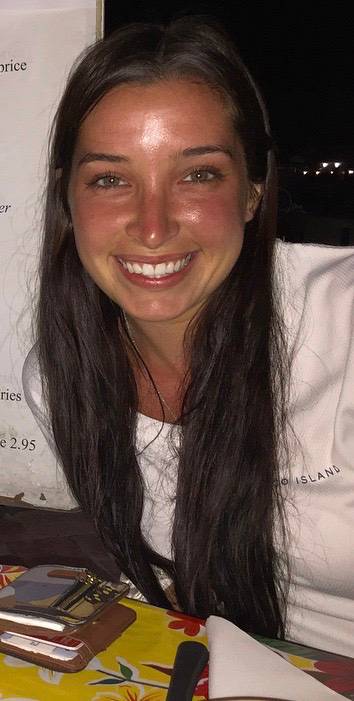 Q: What inspired you to choose clinical laboratory science as your major?
MG: I originally was a pre-nursing major at Texas State, but something in my heart told me it wasn't my career path. After a great deal of researching online and a few meetings with the Program Chair, Dr. Rohde, I knew clinical laboratory science was where I was meant to be.
The reason I love my major so much is that it takes my calling for helping others and my love for science and combines them into one. I have made it a mission of mine always to remember there is a patient behind the tests I will run and not just a set of numbers. There are endless job opportunities for a clinical laboratory scientist to pursue after graduation.
Q: What's your dream job after graduation?
MG: One place I would love to work, eventually, would be a large hospital that sees a large number of unusual cases.
Another field I have grown interested in is public health, especially with how much our public health experts have helped the country during this time.
Regardless of where I end up, I will always serve my patients and community to the best of my ability with the skills I have learned during my time in the clinical laboratory science program.