Texas State lands NASA grant to develop lunar concrete for building on the moon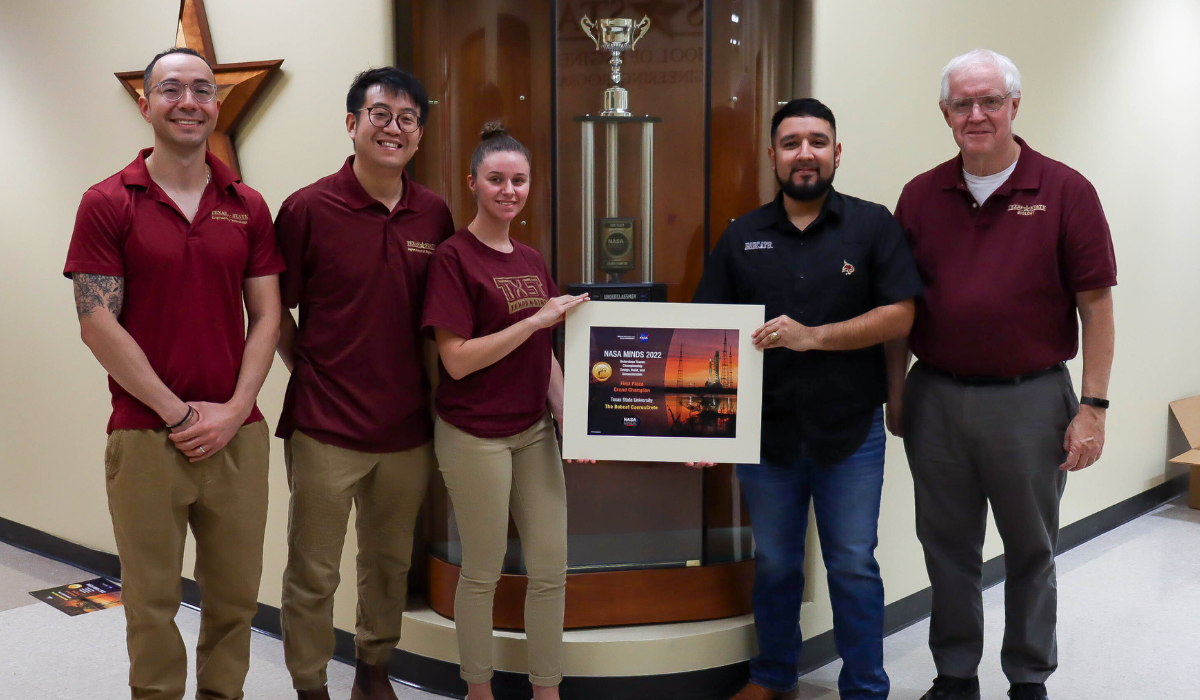 NASA's Minority University Research and Education Project (MUREP) Small Business Technology Transfer (STTR) has awarded Texas State University a planning grant to further develop CaerusCrete, a technology concept that uses available resources found on the moon as a building material.
The $50,000 grant is intended to foster partnerships between the university and small businesses to maximize the potential for the new technology. The Texas State proposal, "Lunar concrete for additive manufacturing using locally available resources on the Moon," originated as an undergraduate student project overseen by Xijun Shi, an assistant professor in the Ingram School of Engineering. Kristina Collins, associate director of Texas State's LBJ Institute for STEM Education and Research, served as co-investigator for the project.
CaerusCrete—named for Caerus, the Greek god of opportunity—explores the idea that alkali activation mechanisms could bind granular materials found on-site, such as regolith (e.g. moon dust), to gain sufficient strength for structural use. Space missions have tight limitations on what they can carry with them, which means that using local materials for construction would be a boon to future space exploration.
Recent advancements in terrestrial concrete include the development and investigation of a portland cement-free concrete known as alkali-activated materials (a.k.a. geopolymer) as a viable construction material. CaerusCrete takes advantage of this new concept for lunar application and incorporates the material into 3D printing technology. In 2022, Shi led an undergraduate student team to design, build and test this innovative concept in a NASA MINDS competition.
Construction and operation of a lunar base requires convergent research involving material engineering, construction sciences and social sciences disciplines. One of the first challenges of future lunar base construction is the development of appropriate materials that can be readily produced on the moon in a large quantity. Incorporating 3D printing technology into the equation of erecting lunar concrete structures would improve efficiency and enable greater automation with building blocks printed on location. This would significantly decrease the amount of time the astronauts spent doing manual labor.
For more information, visit www.nasa.gov/stem/murep/feature/nasa-gives-a-boost-to-minority-serving-institution-innovators.
---