TXST announces new postsecondary education program for students with intellectual and developmental disabilities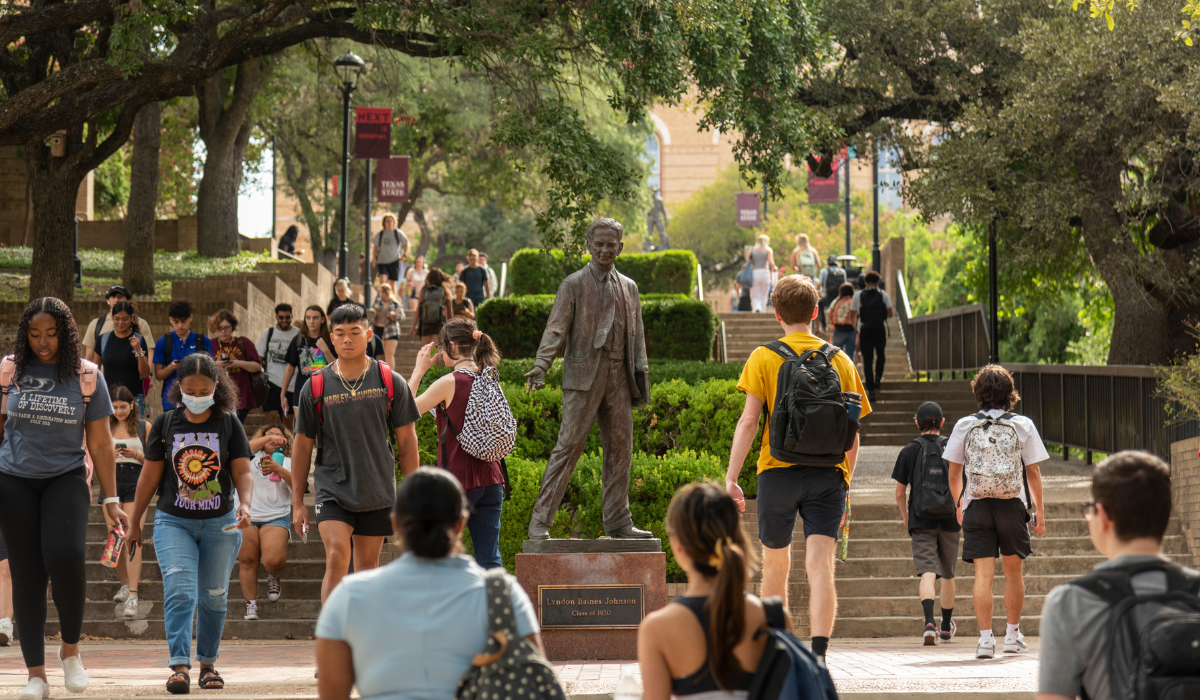 Texas State University has announced a new four-year inclusive postsecondary education (IPSE) program for students with intellectual and developmental disabilities (IDD).
Projected to launch in fall 2023, Bobcat RISE is a four-year, residential college experience that fosters the transition to independent living and employment for young adults with IDD. The program will serve students with a range of intellectual and developmental disabilities who are ready for independent but supported living on a college campus. 
RISE stands for "Resilience, Independence, Self-determination and Empowerment," which are all qualities the program is designed to help students develop. Bobcat RISE will be housed in the College of Education at TXST.
"We've reached a powerful moment in which Bobcat RISE is moving from a dream to a lived reality, and that is inspiring for all of us," said Michael O'Malley, dean of the College of Education at Texas State. "Creating this opportunity for youth with IDD to be fully part of our four-year college experience resonates with the College of Education's core commitment to expanding access and success for all learners. I'm grateful to all who have worked with us as an incredible team on planning and development to achieve this goal, including members of all three of the College's academic departments and others across the university."
In addition to taking traditional courses, Bobcat RISE students will receive support sessions focused on adjusting to college life, financial literacy, self-advocacy, self-determination, independent living skills, and career development. Service learning and paid internships will be integral components to help students develop career skills. Students who complete the program will participate in TXST commencement ceremonies and receive a non-academic certificate.
Bobcat RISE staff will use person-centered planning to create individual learning agreements for each student. Students will be fully immersed in the Bobcat experience, including campus recreation, student organizations, and traditions.
Dr. Tamara Shetron, IPSE program director, will develop and oversee Bobcat RISE. 
"I'm very happy to have this opportunity to help Texas State University develop a four-year, residential inclusive postsecondary education program," Shetron said. "Bobcat RISE will be a fully inclusive program aligned with Texas State's student-centered mission that recognizes excellence and innovation in a number of areas and fosters inclusivity of diverse populations." 
Shetron earned her Ph.D. in Developmental Education from Texas State University. Her doctoral dissertation was titled A Critical Exploration of the Experiences and Beliefs of Administrators of Inclusive Postsecondary Education for Students with Intellectual and Developmental Disability. 
Shetron's professional focus is on supporting access to lifelong learning opportunities for all people in socially valued places with their peer group and within the greater community. Her research addresses IPSE initiatives and community-based arts groups serving people with disabilities; active and engaging instructional practices; and self-reflection as pedagogy. She previously served as interim director of Articulation and University Relations at Austin Community College and as an instructor at the Marbridge residential community.
"I am looking forward to watching our Bobcat RISE students develop Resilience, Independence, Self-determination, and Empowerment as they take their place on the Texas State campus," Shetron said.
Bobcat RISE is Texas's third residential four-year university program for youth with intellectual and developmental disabilities, and the only program of its type serving the Central Texas region. Five students will be admitted in the first cohort in fall 2023, followed by ten students every fall semester thereafter. Funding support has been provided by the HEB Community Fund's largest gift ever to TXST, the Texas Council for Developmental Disabilities, and individual donors.
In addition to successful employment outcomes, Bobcat RISE students will have opportunities to enrich their intellectual, academic, personal, and interpersonal relationship skills.
To learn more, visit Bobcat RISE, or email BobcatRISE@txstate.edu.
---