NIH program to prep Texas State graduates to make leap to doctoral programs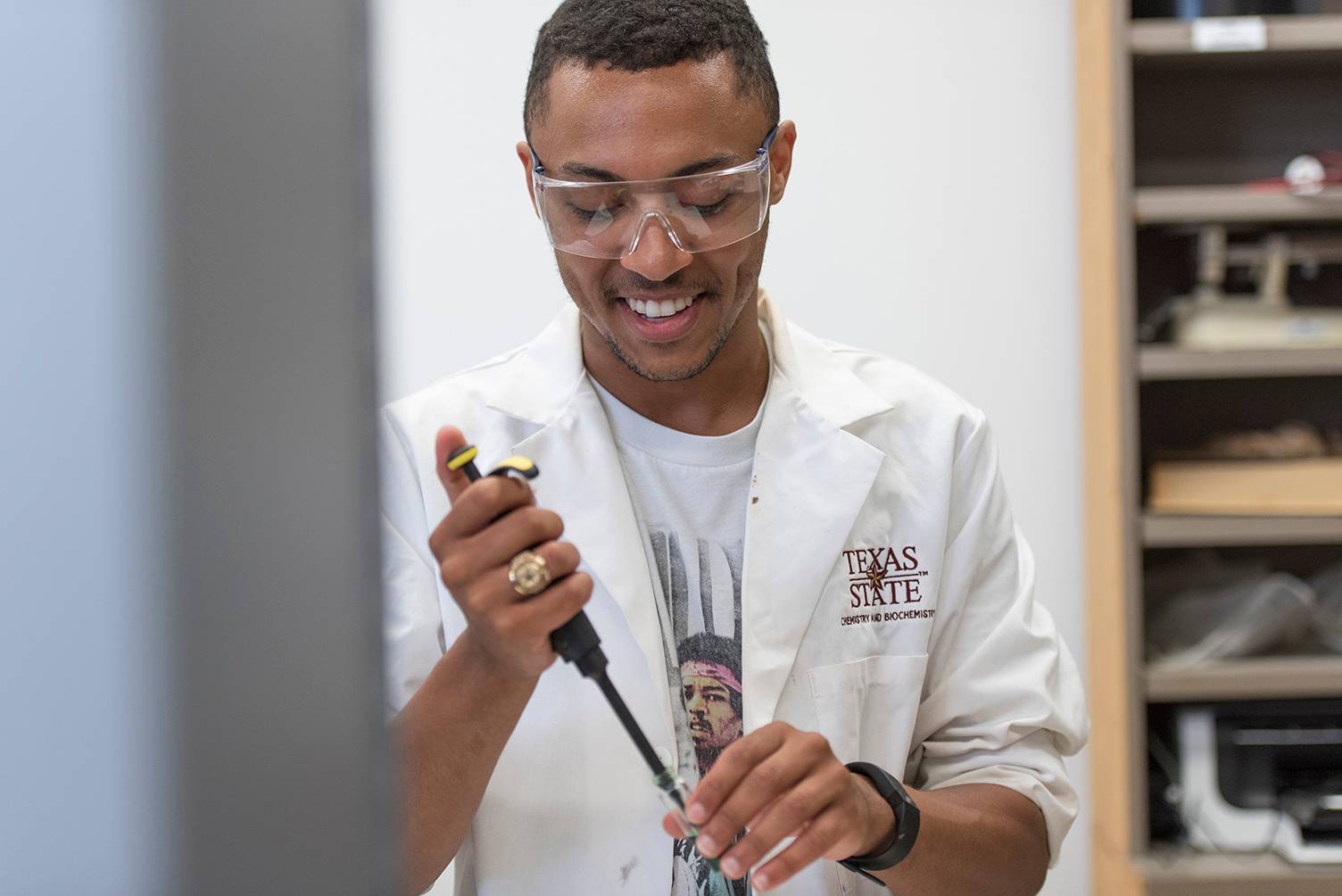 Texas State University has been awarded a grant from the National Institutes of Health to prepare undergraduate students for doctoral programs in biomedical sciences.
The five-year grant of approximately $1.2 million will support the Undergraduate Research Training Initiative for Student Enhancement (U-RISE) at Texas State. Karen A. Lewis, an associate professor in the Department of Chemistry and Biochemistry, will serve as the principial investigator. Sean M. Kerwin, a professor in the Department of Chemistry and Biochemistry, and Robert McLean, Texas State University System Regents' Professor and a professor in the Department of Biology, will serve as co-PIs.
The grant will comprise of two components: the Pre-RISE component will engage first-year students who are interested in science-related careers in career exploration and awareness, while the RISE component will competitively award financial and material support to up to 12 undergraduate students each year for research training at Texas State as well as directed mentoring for their applications to top-tier biomedical sciences Ph.D. programs. While some biomedical science doctoral students earn master's degrees before obtaining their Ph.D. degrees, this is not required, and U-RISE will support Texas State graduates to directly enter doctoral programs.
A recent report from the American Society for Biochemistry and Molecular Biology analyzed data from the National Science Foundation and identified that there was a disproportionately higher number of Black students who earned a master's degree before matriculating into a Ph.D. program. Lewis said that many first-generation students interested in biomedicine similarly plan to enter a master's program prior to pursuing a doctorate.
"Through the U-RISE program at Texas State we will be able to raise student awareness of the accessibility of doctoral programs, including that most science Ph.D. programs provide living stipends for students," Lewis said. "There's not necessarily a requirement for students to work and save up money before starting a Ph.D. program."
The U-RISE program will reach a broad range of Texas State students. In November 2019 the NIH changed its definition for underrepresented demographics in biomedical sciences, expanding it beyond ethnicity. New guidelines take into account socio-economic status, regionality, foster child status and dependency, among other factors, resulting in a more diverse pool of eligible students.
"The NIH was really thinking about the myriad responsibilities and backgrounds of 21st century undergraduates," Lewis said. "Because of this revised definition, we are able to address some of the systemic challenges that our students are facing."
The senior RISE scholars will participate in the Pre-RISE activities with first-year students, serving as peer mentors and leaders. In the second and subsequent years of the Texas State U-RISE program, RISE scholars will receive full support to participate in summer research experiences at partner institutions. The Pre-RISE component serves as a recruiting tool to identify a broad applicant pool of potential U-RISE scholars. That, in turn, allows the U-RISE to benefit a larger number of students than just those who are ultimately accepted as RISE scholars.
"It's very helpful, especially for institutions like ours where we have such a diverse set of students who come from so many backgrounds," Lewis said. "The past year has taught us that our students are accomplishing amazing things while also managing significant responsibilities and challenges. The U-RISE program allows us to support a wide range of students in their own individual journeys while also contributing to the diversification of the biomedical workforce in Texas and the nation."
The U-RISE program at Texas State is a university-wide collaborative effort. Scholars will have opportunities to work with undergraduate research mentors in departments across the College of Science and Engineering, the College of Applied Arts and the College of Education. Additional support is provided by the College of Science and Engineering, University College through the University Seminar program and the Office of Research and Sponsored Programs.
For more information about U-RISE, visit urise.wp.txstate.edu.