Texas State selected to join project to foster equity in community college transfers
Jayme Blaschke | February 8, 2021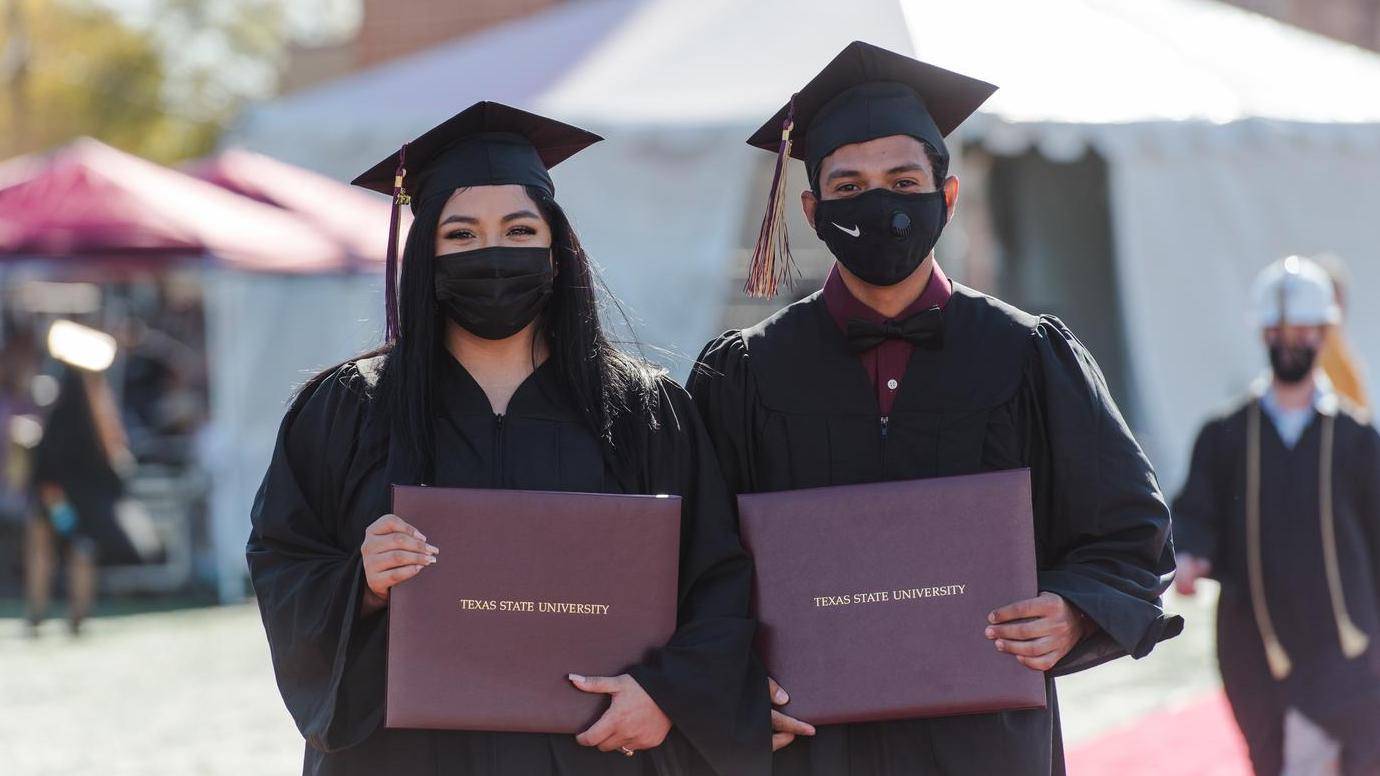 Texas State University is partnering with Austin Community College (ACC) in the Equity Transfer Initiative, a new effort to increase transfer rates for African American, Hispanic, adult and first-generation learners.
The initiative is jointly led by the Association of Public and Land-grant Universities, the American Association of Community Colleges and the American Association of State Colleges.
Sponsored by ECMC Foundation and Ascendium Education Group, the initiative is awarding up to $27,500 to support partnerships between community and four-year colleges to advance transfer pathways and align them to increase transfer and completion for underrepresented student populations. Each team must place at least 100 students on one of five identified transfer pathways by the end of the first year and 300 or more total by the end of the second year. ETI aims serve 6,000 students from the identified underrepresented groups over the two-year project period.
The ACC and Texas State team members will work together to create and expand transfer pathways that lead to degrees in high-demand occupations. Texas State and ACC were the only two Texas institutions selected to receive an Equity Transfer Initiative (ETI) grant that begins February 2021. This grant from the American Association of Community Colleges grant provides coaching and support for two years.
"The grant allows us to continue the impactful work we are doing with Austin Community College to promote transferability, and it will allow us the opportunity to innovate and expand our reach to more deserving students," said Gene Bourgeois, provost and vice president for academic affairs at Texas State. "This grant also supports the Texas Higher Education Coordinating Board's TX60x30 plan, which seeks to ensure that by 2030, at least 60% of Texans ages 25-34 will have a certificate or degree."
Participating institutions will receive support from transfer coaches and technical assistance from subject matter experts to implement the work required to expand and establish clear pathways. As a part of the ETI, teams will implement evidence-based or new equity strategies that improve student success for the students being served through the ETI. ETI transfer pathways will be structured to ensure student completion of the associate degree at ACC before transfer to Texas State.
"We've been on a mission to address inequities in under-resourced communities, and we understand there is no greater impact on social mobility than education," said Gary Ray, associate vice president for enrollment management and marketing. "During this pandemic, there has never been a greater need for this work than now."
At Texas State, 37% (12,354) of the fall 2020 undergraduate enrollment were transfer students. The university's transfer students came from 450 different institutions representing 36 states and U.S. territories. U.S. News & World Report's 2021 listing ranked Texas State 18th in the U.S. for most transfers.
"We know transferring remains a barrier for African American and Latinx students as well as adult and first-generation learners," said Christel Perkins, deputy executive director for the Coalition of Urban Serving Universities and assistant vice president at APLU. "Stronger partnerships between community colleges and universities are essential to tearing down this barrier so more students can finish their studies with a degree in hand."
Participants will receive transfer coaching support to advance work plans that include:
An assessment of the current and/or newly proposed relationship between two-year and four-year institutions to identify obstacles and develop response strategies that lead to a strong transfer relationship.
A review of current and/or new transfer pathways through an equity lens, specifically identifying evidence-based equity strategies or new innovative equity strategies that allow students to matriculate without losing credit and time to degree.
Partnerships/consortia will also have access to technical assistance provided by subject matter experts, participate in convenings to teach and learn from each other and inform the development of train-the-trainer tools that colleges interested in strengthening their transfer pathways can use. Additionally, participants will focus on strengthening student support services and ensuring that culturally competent counseling, among other interventions, are considered as viable ways to serve these students.
The other APLU institutions participating in the effort are: University of California, Davis; Cleveland State University; University of Colorado Denver; George Mason University; University of Massachusetts Lowell; Oklahoma State University; University of Wisconsin-Milwaukee; and Wayne State University. Oklahoma State University-Tulsa, a member of the Coalition of Urban Serving Universities, is also participating. Sixteen partnerships from 13 states representing 17 community colleges and 19 universities were selected to participate.
About Texas State University
Founded in 1899, Texas State University is among the largest universities in Texas with an enrollment of 38,694 students on campuses in San Marcos and Round Rock. Texas State's 192,000-plus alumni are a powerful force in serving the economic workforce needs of Texas and throughout the world.