Robert McLean looks to safeguard clean water in space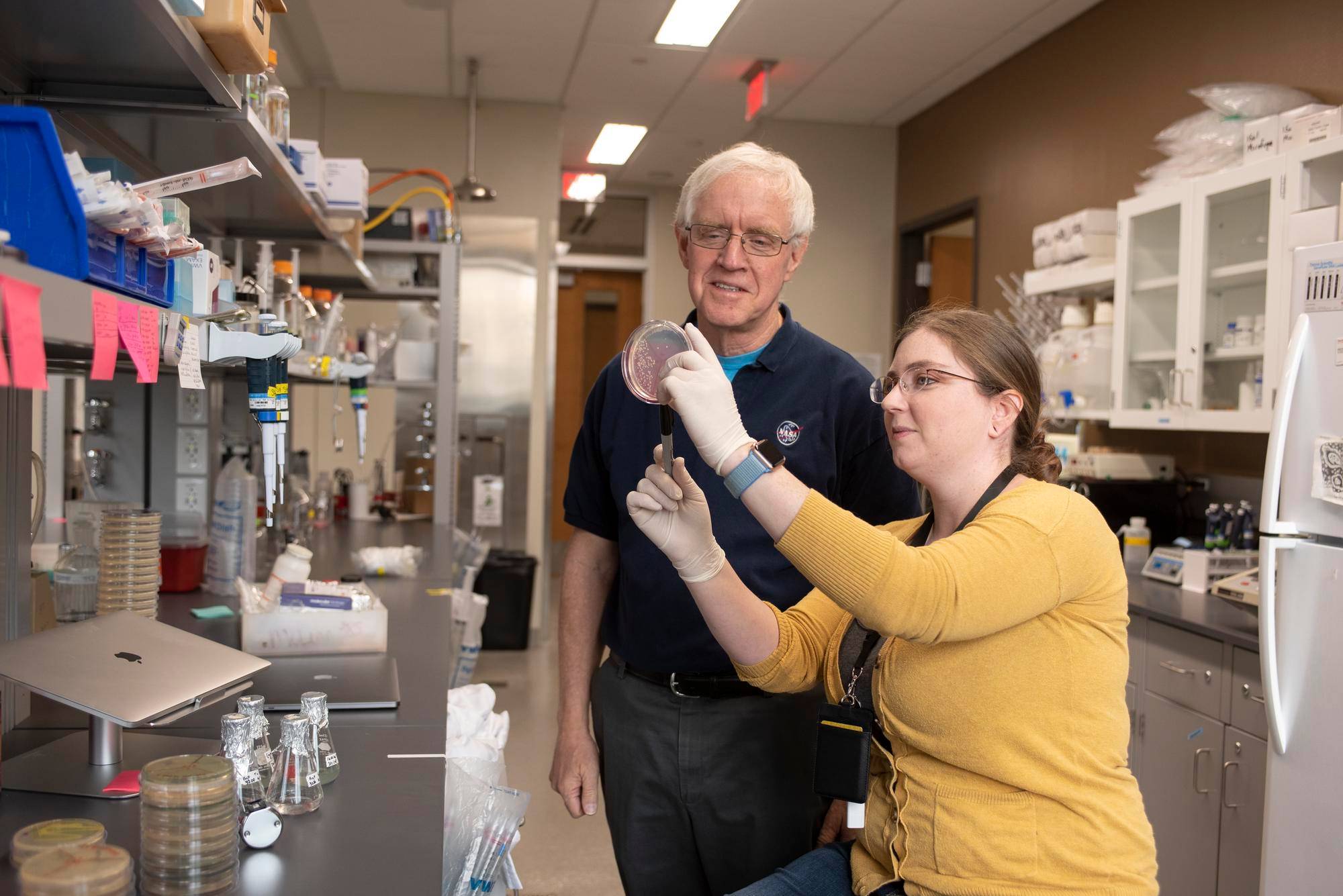 While Dr. Robert J.C. "Bob" McLean is teaching Texas State University students about microbiology, he also is working with NASA on researching how bacteria grows in weightless environments to safeguard clean water.
McLean is Regents' Professor in the Department of Biology for Texas State as well as the Homer E. Prince Professor of Microbiology and a University Distinguished Professor. McLean, a native of Canada, joined Texas State in 1993. He has published more than 90 papers, edited two books, 13 book chapters and co-authored a textbook on microbial ecology.
In addition to his current research with NASA, he has received research funding from the federal Environmental Protection Agency, the National Institutes for Health and the Texas Higher Education Coordinating Board.
Q: How did you become interested in biology?
A: When I was young, I got fascinated with Monarch butterflies. We had milkweed in our yard. Monarchs eat milkweed. I got four or so caterpillars to form a chrysalis and emerge as Monarch butterflies. That was my first experience. In terms of my microbiology, when I was the equivalent of a high school junior, I grew some bacteria on a plate in a class. I've always been interested in different aspects of science.
Q: Can you tell us about your project with NASA?
A: Our first spaceflight experiment in 1998, was on the John Glenn space shuttle mission (STS-95) and that involved the help of some eighth-grade students from Travis Middle School in Port Lavaca, Texas, as well as three young students (two of whom were my sons) from Wimberley Independent School District – they were in third and first grade at the time.
NASA got interested in surface-adherent bacterial populations or biofilms. Two common examples of biofilms that people will encounter are the adherent bacteria on your teeth – or dental plaque, and the slimy coating on rocks in rivers and even in your shower -- particularly if it hasn't been cleaned recently.
During the STS-95 flight in 1998, we did an experiment to see if bacteria could attach to surfaces during weightlessness – formally known as "microgravity." They did, and that resulted in one of the first reports of biofilm formation during microgravity. NASA got interested in funding some biofilm work related to spaceflight and as a result, I collaborated with several people – notably Cheryl Nickerson and her lab at Arizona State University and Mark Ott at the NASA Johnson Space Center in Houston --and we received a grant to study biofilm formation during spaceflight, and its ability to be controlled with a silver-based disinfectant. Aside from potential health risks to space crew, biofilm formation in life support equipment can cause clogging – or fouling -- and there would be a risk of corrosion. In extreme cases, bacteria might cause leaks in piping or other equipment. It would be nice to go on a spaceflight to the Moon or Mars, and not worry about leaky pipes.
We did over four years of planning and testing and our experiment launched on Space X21 on December 6, 2020, and returned on January 14. One of our samples did not get processed by the space crew in time for return on the January return of Space X21, and so it was returned on Crew 1 on May 2, 2021. We are completing our post-flight experimental analysis and I are presenting some of those results right now.
Q: Why is understanding how bacteria grow in a low-gravity or microgravity environments important to the future of space travel?
A: From a safety perspective, we want to be able to identify if there are potential problems with bacteria that can cause equipment damage or harm the crew.
NASA and the other agencies are really good about trying to keep things clean and sanitized, but there are things that can slip through. For safety you want to make sure you don't put the crew at risk of infection.
There are some industrial applied benefits as well, including extracting precious metals from moon dust. For example, some European researchers are looking at using microorganisms to extract precious metals from meteors. Other microorganisms, notably a type of yeast, are used for alcohol production. The nice thing about beneficial microorganisms is you don't have to pay them overtime.
Q: What is your strangest experience you've had in your years of research?
A: We do get some unexpected things. That's just part of the adventure. The strangest experience is often when things don't work out. The thing I'm most proud of is seeing where different people end up.
It's been an adventure. Sometimes there are potholes, rough spots. It sure has been fun. I feel privileged. I think back to when I was a kid getting up in the middle of the night to watch Apollo 8 in orbit. Now I'm involved with it.
Q: Do you want to travel in space some day?
A: I'd love to. I don't know it is doable or not. I know John Glenn went up when he was in his 70s – but he knew what the game was. I would love it or see my two sons, or one of my students travel in space.
Q: What are your top takeaways on the future of space travel?
A: I really hope we keep pursuing it. If you are in a microgravity or weightless condition, some things are totally different.
While I think the sense of adventure is good, I think there are potential business opportunities. There is a possibility to mine minerals in space and microorganisms can help us like that.
If we set up a base on the moon, we can grow crops. Or we can put moon dust together with microorganisms to build biological concrete.
The space exploration is one small step of it but there are many potential applications. Just as the development of the American West led to economic growth, a similar thing might happen going to the moon.