Bobcat's book teaches children to embrace identity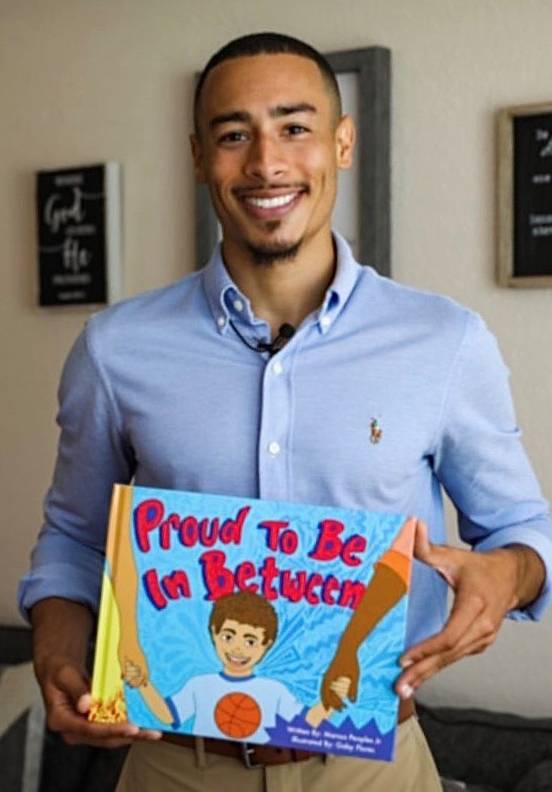 Marcus Peoples (B.S. '17, M.P.A. '19) and his family moved around often when he was growing up. As he and his siblings adapted to each new environment, he remembers his parents using every tool they had to instill a strong sense of identity in all of them. Peoples' mother is Native American and Hispanic, and his father is African American. For them, it was especially important that their children be proud of who they are and embrace their multiethnic identities. Peoples' book, Proud to Be In Between, gives parents a new tool to empower their children.
Proud to Be In Between (Marcus Peoples Jr., 2020) tells the true story of Peoples' life, beginning with his childhood. When setting out to write his first children's book, he focused on the importance of children having access to diverse stories that teach them to be proud of who they are. Peoples credits Texas State's faculty, especially in the Master of Public Administration program, with giving him the confidence to pursue his goal. They inspired and supported him in the same way he hopes to inspire his readers. He is particularly grateful for the encouragement that professor Dr. Patricia Shields gave him when he faced challenges. She ensured that he not only reached the finish line, he says, but that he was able to continue moving past it. Peoples hopes that his book does the same for children — help them build a strong sense of self and succeed above and beyond expectations.
Children are already feeling the impact of Proud to Be In Between. Peoples says school districts have adopted it into their curricula and have invited him to speak on the book's themes. While copies have been sold around the world, some of Peoples' biggest fans are very close to home. His brothers, ages 9 and 14, love both the message of the book and the fact that they make an appearance in it. Peoples says the most rewarding reception has been from parents who come away from the book feeling more prepared to talk to their children about race. Conversations about diversity are only going to become more complex over time, Peoples notes, and parents should feel prepared to have them. While he set out to write a children's book, it is clear that Proud to Be In Between resonate with readers of all ages.
Proud to Be In Between is available at www.proudtobeinbetween.com and from online book sellers.