Texas State hosts international delegation from 7th Americas Competitive Exchange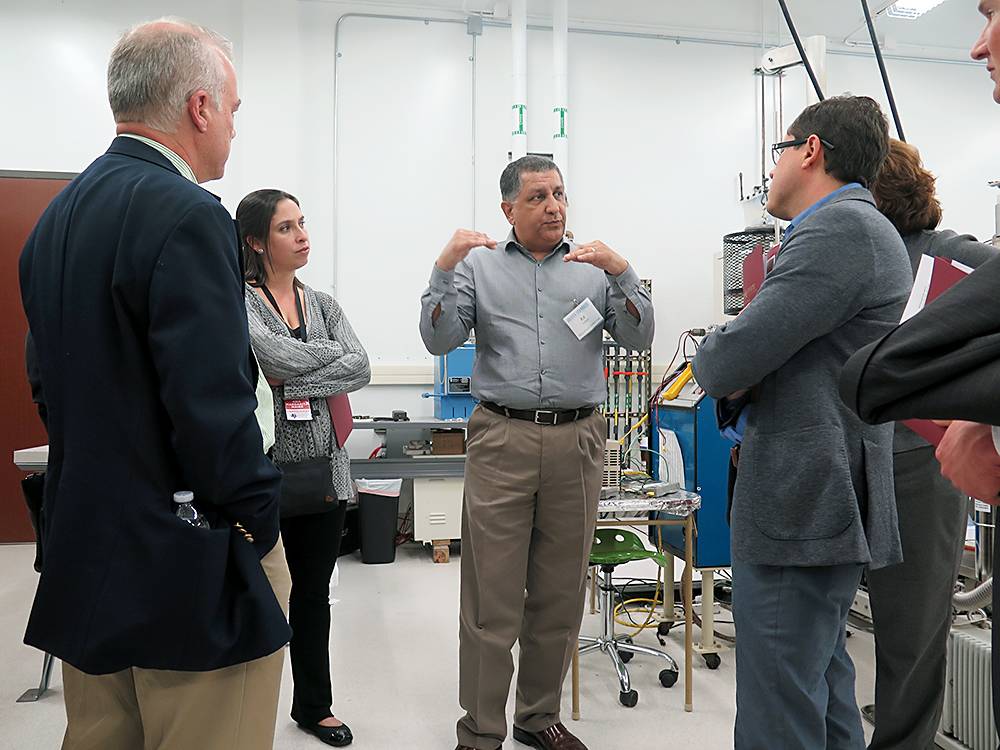 Posted by Jayme Blaschke
Office of Media Relations
April 5, 2017
Texas State University hosted 51 high-level representatives from 27 countries including Argentina, Brazil and Mexico who were participating in the Seventh Americas Competitiveness Exchange (ACE) on Innovation and Entrepreneurship on April 5.
Highlights of the international representatives' day included The Meadows Center for Water and the Environment, where they learned about Texas State's multi-disciplinary expertise in real-world, water-related challenges, along with glass-bottom boat and wetlands tours. The ACE contingent also toured STAR Park, where event participants met student entrepreneurs and visited with representatives from start-up companies engaged in cutting-edge research in advanced manufacturing and materials science.
ACE brings together decision-makers from throughout the Western Hemisphere and other nations to explore global and regional partnerships and economic development opportunities that will strengthen innovation and entrepreneurship in the region. The event is sponsored sponsored by the U.S. Department of Commerce's International Trade Administration (ITA) and Economic Development Administration (EDA), in coordination with the Organization of American States (OAS) and the U.S. Department of State.
"Texas State University has a vital role in spurring growth and economic activity along the Austin-San Antonio corridor and we look forward to sharing our narrative of competitiveness and innovation with this international delegation," Texas State University President Denise M. Trauth said. "We hope this forum leads to a better understanding of our capabilities and to global partnerships that will enrich our economies."
In addition to Texas State, the delegation will also tour bioscience, cybersecurity, rural healthcare, disaster recovery and resiliency, information technology and agriculture clusters in cities ranging from small towns such as New Braunfels and Fredericksburg to major metropolitan areas such as San Antonio, College Station and Austin.
"ACE is a proven vehicle for showcasing the incredible innovation capacity of U.S. regions and for establishing global commercial relationships and Foreign Direct investment (FDI) partnerships that can boost business development and job growth in the United States," said Dennis Alvord, EDA deputy assistant secretary for regional affairs. "We look forward to spotlighting the great work being done to advance the innovation economy in Central Texas and the work that the Department of Commerce is doing in the region to support their efforts."
For more information about ACE VII including a complete delegation list and itinerary for the tour, visit www.riacevents.org/ace/texas/.
About the U.S. Economic Development Administration (www.eda.gov)
The mission of the U.S. Economic Development Administration (EDA) is to lead the federal economic development agenda by promoting competitiveness and preparing the nation's regions for growth and success in the worldwide economy. An agency within the U.S. Department of Commerce, EDA makes investments in economically distressed communities in order to create jobs for U.S. workers, promote American innovation and accelerate long-term sustainable economic growth.
International Trade Administration (www.trade.gov)
The International Trade Administration (ITA) is the premier resource for American companies competing in the global marketplace. ITA has more than 2,200 employees assisting U.S. exporters in more than 100 U.S. cities and 75 markets worldwide.
About Texas State University
Founded in 1899, Texas State University is among the largest universities in Texas with an enrollment of 38,849 students on campuses in San Marcos and Round Rock. Texas State's 170,000-plus alumni are a powerful force in serving the economic workforce needs of Texas and throughout the world. Designated an Emerging Research University by the State of Texas, Texas State is classified under "Doctoral Universities: Higher Research Activity," the second-highest designation for research institutions under the Carnegie classification system.