Tonatiuh, Pérez winners of 2016 Rivera Mexican American Children's Book Award
Posted by Jayme Blaschke
Office of Media Relations
April 8, 2016
Duncan Tonatiuh and Ashley Hope Pérez have been named the Tomás Rivera Mexican American Children's Book Award recipients for works published in 2014-15.
The award, established at Texas State University in 1995, is designed to encourage authors, illustrators and publishers to produce books that authentically reflect the lives of Mexican American children and young adults in the United States.
The award will be presented November 3 on the Texas State campus with additional events scheduled in cooperation with the Texas Book Festival to be announced.
The Tomás Rivera Award considers works in two categories: "Works for Older Children/Young Adult" and "Works for Younger Children." Pérez is being recognized for her book Out of Darkness under the "Works for Older Children/Young Adult" category, while Tonatiuh is being recognized for Funny Bones: Posada and His Day of the Dead Calaveras under the "Works for Younger Children" category.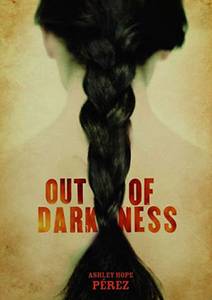 Out of Darkness
When 17-year-old Naomi arrives in New London from San Antonio in 1936, her pride in being Mexican and commitment to protect her younger brother and sister are challenged by racist and sexual violence. Naomi's isolated life is transformed, however, when she falls in love with Wash, a young African American who knows the lines drawn by racial hatred as well as the dreams that might flourish through family, love, community and education. As Naomi and Wash's love grows, so too do the pressures to conform to gendered and racial codes—even as the worst school disaster in U.S. history looms in their future.
Pérez's debut novel, What Can't Wait, won a spot on the 2012 YALSA Best Fiction for YA list. Her second novel, The Knife and the Butterfly, was included in the 2015 YALSA Popular Paperbacks list, and Out of Darkness has been named a Michael L. Printz Honor Book. Pérez grew up in Texas and taught high school in Houston before pursuing a Ph.D. in comparative literature. She is now a visiting assistant professor of comparative studies at Ohio State University.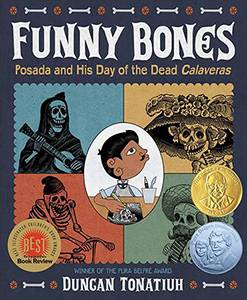 Funny Bones: Posada and His Day of the Deal Calaveras
In Funny Bones: Posada and His Day of the Dead Calaveras, readers are introduced to the art of 'calaveras', the playful skeletons popularized by the Mexican graphic artist Jose Guadalupe Posada at the turn of the 20th century. Using hand-drawn and digitally collaged illustrations, Tonatiuh infuses Posada's original art work with his own, resulting in a unique biography and information book that conveys the social and creative structures at work in the creation of the artwork used during the annual celebration of El día de los muertos. It also explores the way Posada designed special calaveras to comment on the social and political conditions of his time.
Tonatiuh was born in Mexico City and grew up in San Miguel de Allende, Mexico. He is a graduate of Parsons the New School for Design in New York City, where he studied writing and illustration. His first book, Dear Primo, won the 2011 Pura Belpré Honor for Illustration, and Diego Rivera won the 2012 Pura Belpré Illustration Award and the 2012 Tomás Rivera Children's Book Award. Pancho Rabbit and the Coyote also received the Pura Belpré Honor for Illustration and Narrative and the 2015 Tomás Rivera Book Award. Tonatiuh lives in Mexico.
About the Tomás Rivera Mexican American Children's Book Award
The Tomás Rivera Award at Texas State celebrates authors and illustrators dedicated to depicting the values and culture of Mexican Americans. Rivera, who died in 1984, graduated from Texas State with both his bachelor's and master's degrees before receiving a Ph.D. from the University of Oklahoma. A Distinguished Alumnus of Texas State, Rivera published his landmark novel in 1971 titled ...y no se lo tragó la tierra/ ...And the Earth Did Not Part. In 1979, Rivera was appointed chancellor of the University of California-Riverside, the first Hispanic chancellor named to the University of California System.
For more information on the Rivera Award, please visit the Rivera Award website at http://riverabookaward.org.