Texas Poet Laureate Laurie Ann Guerrero to hold reading at Wittliff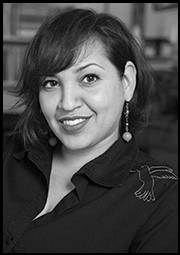 By Sean Guion
Office of Media Relations
April 4, 2016
Author Laurie Ann Guerrero will hold readings and book signings at Texas State University's Wittliff Collections on Thursday April 14 and at the Katherine Anne Porter Literacy Center on Friday, April 15.
The Wittliff signing will be at 3:30 p.m. on the seventh floor of the Alkek Library. The KAP Literacy Center signing will be at 7:30 p.m. in Kyle.
Guerrero was named the 2016 Poet Laureate of the State of Texas. Her chapbook, Babies Under the Skin, won the Panhandler Chapbook Award. Guerrero's poetry and critical work has appeared, or is scheduled to appear, in Poetry, Indiana Review, Luna Luna, Huizache, Texas Monthly, Bellevue Review, Borderlands: Texas Poetry Review, Women's Studies Quarterly, Texas Observer, Chicana/Latina Studies, Feminist Studies and others.
The event is sponsored by the Burdine Johnson Foundation and Texas State University's Department of English, the Wittliff Collections, the Therese Kayser Lindsey Endowment and the Katherine Anne Porter Literary Center.
For more information please visit www.kapliterarycenter.com/KAP_EventsPage.html or www.thewittliffcollections.txstate.edu/exhibitions-events/events.html.