Author Tracy K. Smith to visit Alkek Library, KAP Literary Center
By Alyssa Phillips
University News Service
September 18, 2015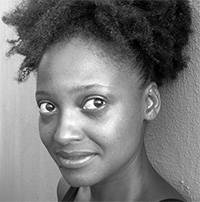 The Katherine Anne Porter Literary Center and the Wittliff Collections will host a reading and book signing by Tracy K. Smith, author of the critically acclaimed memoir, Ordinary Light, October 1-2.
The event will begin at 3:30 p.m. on October 1 at the Wittliff Collections in the Alkek Library, and at 7:30 p.m. on October 2 at the Katherine Anne Porter Literary Center. All events are free and open to the public. Books will be available during and after the event through the University Bookstore.
Smith's most recent collection of poems, Life on Mars, won the 2012 Pulitzer Prize and was selected as a New York Times Notable Book. Duende won the 2006 James Laughlin Award from the Academy of American Poets and an Essence Literary Award. The Body's Question was the winner of the 2002 Cave Canem Poetry Prize. Smith was the recipient of a Rona Jaffe Writers Award in the 2004 and a Whiting Award in 2005. She currently teaches at Princeton University.