In Brief: Harris, Giuffre book 'Taking the Heat' sparks local, national interest
By Ryan Thornton
University News Service
September 9, 2015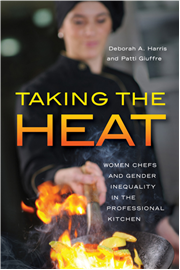 Two sociologists at Texas State University, Deborah A. Harris and Patti Giuffre, are gaining local and national recognition for their new book titled Taking the Heat: Women Chefs and Gender Inequality in the Professional Kitchen, published this year by Rutgers University Press.
Several newspapers and websites have written about the book, including the Austin American-Statesman and the Austin Chronicle.
In the book, Harris and Giuffre address the question of gender inequality in restaurant kitchens by placing it within the historical context of domestic and professional cooking from the 18th century to today.
Harris and Giuffre began from the observation that women today still struggle to gain status and recognition as restaurant chefs. They wanted to know why restaurant kitchens have failed to implement the same structural improvements as other modern workplaces, or, why they still cater to men. They find the answers come partly from the history of a restaurant kitchen as a chaotic space that favors masculine values, and also from the broader cultural difficulties that women leaders in any profession continue to face today.
For the book, Harris and Giuffre interviewed 30 women about their experience working in restaurant kitchens. They found that women often feel the need to conform to certain feminine roles in order to have their voices heard. Harris and Giuffre conclude their book with insights as to how women can use their feminine strengths to create a more equal and balanced work environment for everyone without having to misrepresent themselves.
Follow Harris on twitter at @taking_the_heat to see the latest media coverage and events about the book.