In Brief: Texas State engineering student Martin honored by U.S. Marine Corps
Posted by Jayme Blaschke
University News Service
September 14, 2015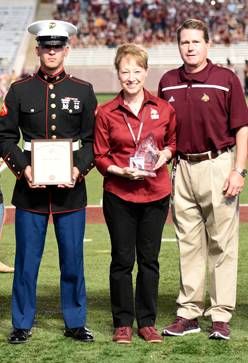 Matthew Martin, a lance corporal in the United States Marine Corps Reserve and engineering major at Texas State University, was honored September 12 during the Texas State football game.
Martin received an award for being ranked the No. 1 candidate in his company of 182 qualified Marines in Officer Candidate School. Additionally, Martin was honored for achieving a perfect score on the Marine Corps Combat Fitness Test, receiving a certificate of achievement from the Marine Corps for his hard work, determination and mental and physical toughness during training.
The awards were presented by Col. Steven Ramos.
In his time at Texas State, Martin has achieved a 3.9 GPA and has been on the Dean's List every semester, while working full-time and maintaining a military career in the reserves. He credits all of his success in the military to the amazing support he has received from his friends and family.