Filmmaker Robert Rodriguez to deliver LBJ Distinguished Lecture
By Carl Clark
University News Service
September 15, 2015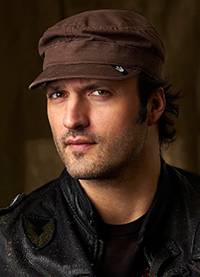 Film director Robert Rodriguez will deliver the LBJ Distinguished Lecture at Texas State University September 16.
The free public speech will be held at 7 p.m. in Evans Auditorium on campus. It is presented in cooperation with the Common Experience at Texas State.
In addition to directing Rodriguez is a screenwriter, producer, cinematographer, editor and musician. He is the founder, chairman and CEO of El Rey Network, a new English-language cable network.
After attending the University of Texas at Austin, Rodriguez won acclaim at the Sundance Film Festive in 1992 with his student film El Mariachi. Rodriguez went on to write, produce, direct and edit a series of successful films, including Desperado, The Faculty, From Dusk Till Dawn, the Spy Kids franchise, Once Upon a Time in Mexico, Frank Miller's Sin City, The Adventures of Sharkboy and Lavagirl in 3D, Grindhouse, Machete and Sin City 2: A Dame to Kill For.
The 2015-2016 Common Experience theme is "Bridged Through Stories: Shared Heritage of the United States and Mexico, a Homage to Dr. Tomás Rivera." This yearlong program is meant to bring together the Texas State student body and faculty, creating a sense of community throughout the university and beyond.
Rodriguez brings to the Common Experience his unique film style which has become a part of Americana and through his stories bridges the shared heritage of the United States and Mexico.
About the LBJ Lecture
The annual Lyndon Baines Johnson Lecture, initiated in 1982 to honor the former president and Texas State graduate, recognizes the importance of education to the continuing prosperity of the nation. Through the series, Texas State works to perpetuate the former president's high educational ideals by bringing outstanding individuals to campus to meet with students and faculty and present public lectures. Previous lecturers include former Congresswoman Barbara Jordan, poet Maya Angelou and former President Gerald Ford.