Discourse in Democracy series to present J. Budziszewski lecture on 'True Tolerance'
By Alyssa Phillips
University News Service
September 30, 2015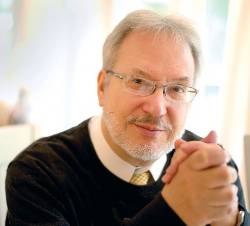 J. Budziszewski, author and professor in the department of government at the University of Texas, will speak on "True Tolerance: Recognizing the Difference Between Real Tolerance and Its Counterfeits," 7-8:30 p.m. Thursday, October 15 in room 250 of the Alkek Library.
The event is part of the Discourse in Democracy Lecture Series, hosted by the Department of Political Science.
Budziszewski specializes in political philosophy, ethical philosophy and the interaction of religion with philosophy, including philosophy of law. His books include The Line Through the Heart: Natural Law as Fact, Theory and Sign of Contrition (Intercollegiate Studies Institute Press, 2009), What We Can't Not Know: A Guide (2d ed. Ignatius, 2011) and his most recent book Commentary on Thomas Aquinas's Treatise on Law (Cambridge University Press, 2014).
Discourse in Democracy is an annual series of activities and symposiums sponsored by the department of political science to develop and provide a learning environment for students to advance their knowledge and broaden their understanding of political science. To fulfill its mission, Discourse in Democracy offers activities every semester designed to enable direct student engagement with faculty and guest speakers to foster discussion through the exchange of ideas.