In Brief: American Prize-nominated conductor makes her Texas State debut
By Alyssa Phillips
Office of Media Relations
October 7, 2015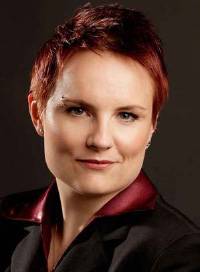 Newly-appointed director of the Texas State University Symphony Orchestra, Carolyn Watson, will make her conducting debut in Evans Auditorium 7:30 p.m. on Friday, October 9.
The performance, A New Beginning, is the first concert in the 2015-2016 season and will feature works of Beethoven, Assad, Hindemith and Shostakovich. Tickets can be purchased online for $5 for students, military members and seniors, and $10 for adults.
Watson, who holds a Ph.D. in performance with a focus in conducting from the University of Sydney, has recently been nominated as a semi-finalist in three categories of the prestigious American Prize in Conducting. The American Prize is a peer-reviewed award selected by a jury of industry professionals. Watson has been nominated for her work as a conductor with the Detroit Symphony Civic Orchestra in the Youth Orchestra Division, her work with the Interlochen Arts Academy Orchestra in the High School Division, and her work with the Arts Academy Orchestra in the Orchestral Performance category.
Originally from Australia, Watson's career has taken her all over the world, from Sydney to Scotland, Germany, Israel, Czech Republic, and in the U.S. to Aspen, Colorado, Interlochen and Detroit, Michigan. She is the recipient of a number of prestigious national and international awards for young conductors, including the 2013 Brian Stacey Award for emerging Australian conductors, the coveted Sir Charles Mackerras Conducting Prize via the Australian Music Foundation in London, the Opera Foundation Australia's Bayreuth Opera Award and Berlin New Music Opera Award, and the Nelly Apt Conducting Scholarship.
For more information, contact Texas State Presents at (512) 245-6500 or at txstatepresents@txstate.edu.