Supple Folk Music Series features return of Austin Lounge Lizards
By Carl Clark
Office of Media Relations
October 29, 2015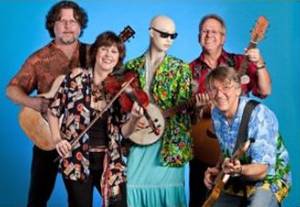 The Supple Folk Music series at Texas State University presents the Austin Lounge Lizards Nov. 4 as part of the Encore Performing Arts Series.
The event will take place at 7 p.m. in the Performing Arts Center's Recital Hall.
The Austin Lounge Lizards are five-time winners of the Austin Music Award and were featured by the Supple Folk Music Series in 2006. They have been preforming their satirical music for 35 years. Eventually coming together in Texas, they began their long career of sharp musical satire, which has gained a large following across Texas. They cover subjects ranging from politics and religion all the way to romance.
For more information on the band visit www.austinloungelizards.com.
General admission tickets are $15 and student tickets are $8. Any online purchases include a $2 processing fee. Tickets are available at txstatepresents.universitytickets.com. For more information please contact Texas State Presents at (512) 245-6500