Author Lydia Davis to give readings at Wittliff Collections, KAP Center
By Ryan Thornton
Office of Media Relations
October 16, 2015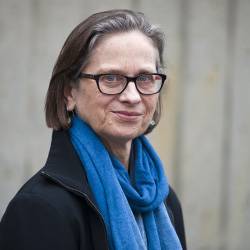 Author and translator Lydia Davis will present readings and book signings at the Wittliff Collections at Texas State University October 29 and at the Katherine Anne Porter Literary Center in Kyle October 30.
Davis' reading at the Wittliff Collections will begin at 3:30 p.m., and the Kyle reading with begin at 7:30 p.m. The events are free and open to the public.
Davis is author of the novel The End of the Story, nine story collections and many translations of French literature and philosophy. She has earned several awards for her fiction including a McArthur Foundation "Genius" award in 2003, the American Academy of Arts and Letters' Award of Merit Medal in 2013 and the 2013 Man Booker International Prize.
The New York Times wrote last year that Davis' fiction "resists classification and is especially immune to explanatory jibber-jabber." Sir Christopher Ricks with the Man Booker International Prize said Davis' stories could equally be called "miniatures, anecdotes, essays, jokes, parables, fables, texts, aphorisms or even apophthegms, prayers or simply observations."
Davis' translations of works by Marcel Proust, Gustave Flaubert and others led her to be named a Chevalier of the Order of Arts and Letters by the French government.
The readings and book signings are sponsored by the Burdine Johnson Foundation, the Wittliff Collections, the Lindsey Reading Series and the Texas State University Department of English.
The Katherine Anne Porter Literary Center is located at 508 Center Street in Kyle. The Wittliff Collections are on the 7th floor of Texas State's Alkek Library.
For more information contact, Jeremy Garrett at kapliterarycenter@gmail.com or go to www.kapliterarycenter.com.