Pierce tapped as next vice president for information technology
By Matt Flores
University News Service
May 20, 2015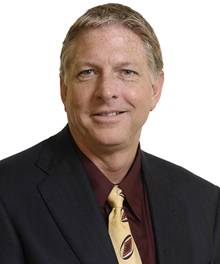 Texas State University has hired Kenneth Pierce, an information technology expert with vast experience in the public and private sectors, as the institution's next vice president for information technology.
Pierce has been vice provost and chief information officer for the University of Texas at San Antonio since 2009, and previously held a similar position at UT El Paso for seven years. He will begin duties at Texas State on July 6.
"We are very pleased that Kenneth Pierce will be joining Texas State in this crucial role," Texas State President Denise M. Trauth said. "Mr. Pierce has broad experience in the IT world and is keenly aware of the needs and challenges higher education institutions face in the evolving culture of information technology."
The vice president for information technology at Texas State oversees technology resources, instructional technology support, and the university library.
Prior to his position at UTEP, Pierce was director of product development and management at CommerceRoute, Inc., a startup in Emeryville, Calif. He also has worked for the Boeing Company in Seattle, where he managed organizations responsible for technical training, human resources systems, and finance support; and for Microsoft Corp., assisting that company through the Y2K era.
Pierce received a bachelor's degree in mechanical engineering from the University of Houston and a master's degree in information technology from Capella University.
"I am absolutely thrilled with the opportunity to join Texas State University," Pierce said. "In my role as vice president for information technology, I am looking forward to playing a key role in the further advancement of the university in its educational and research missions."
Pierce will succeed C. Van Wyatt, who is retiring this summer after serving as Texas State's information technology vice president since 2000.