In Brief: First 'Sally the Salamander' storm drains installed on campus
Posted by Jayme Blaschke
University News Service
March 6, 2015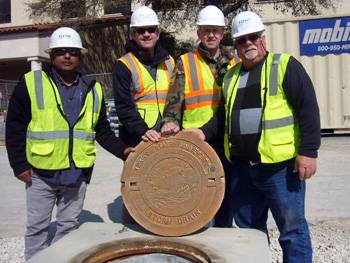 The first "Sally the Salamander" storm drain covers have been installed as part of the campus Bobcat Trail Redevelopment project at Texas State University.
Texas State and the City of San Marcos selected this design from a joint campus and city art contest. Texas Statey students Andrea Weissenbuehler and Mabel Sirup were the winning artists. Weissenbuehler designed the center artwork and Sirup designed the outer rim. The art signifies the need to protect all endangered species--including the Texas blind salamander native to the San Marcos Springs--because storm water drains to the San Marcos River.
The storm drains will be installed across campus and throughout the city.