Texas State alumni, donor and music sage Kent Finlay dies
Posted by Jayme Blaschke
University News Service
March 3, 2015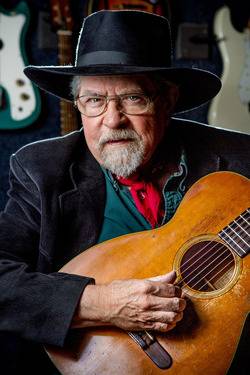 "Country music--and just music in general really--lost a great friend today," George Strait said, in a statement Monday afternoon. "His legend will live forever in Texas, though. We'll never forget our friend, Kent Finlay. Sad day."
Kent Finlay, arguably the most respected lyrical editor in Texas, and a sharp songwriter in his own right, died on Texas Independence Day at his home in Martindale. He was 77. He was proud to have earned bachelors and masters degrees from Texas State University. He taught a popular course in Country Music History in the history department in the 70s and 80s, and again in the 2000s. Among his first students were Strait and other members of the Ace in the Hole Band. He was instrumental in the development of the Texas State Center for Texas Music History. Today, the Kent Finlay Endowed Scholarship is presented to an outstanding history student each year. He has been featured countless times in Texas State publications. He established the Cheatham Street Music Foundation, a non-profit music development foundation, and has left an influential legacy on the campus of Texas State University as well as in Texas and American music.
He is survived by his three children, Jenni Finlay and her husband, Clay McNeill; Sterling Finlay, and HalleyAnna Finlay. He is also survived by a granddaughter, Annie Finlay; his former wife, Diana Finlay Hendricks and her husband, Mark Hendricks; one sister, Barbara Finlay, and three brothers, Tom Finlay, Mike Finlay and Steve Finlay. A memorial musical celebration is being planned for later this spring and will be announced on the Cheatham Street website. (www.cheathamstreet.com) The family requests that memorial contributions be made to the Cheatham Street Music Foundation.
During his life, Finlay made no secret of the fact that his first love was his beloved Cheatham Street Warehouse. The music hall/beer joint has always existed for creation. Songs begin on that rustic old stage and resonated through the large, fiddle-shaped, historic wood-lined room with the rusty tin façade. Finlay hosted his songwriters night, an open mic show featuring original songs almost every Wednesday night for more than 40 years. Along the way he nurtured songwriters and storytellers with unprecedented success during his lifetime.
Clearest evidence: The Class of 1987. "That was the most exciting year," said Finlay, who opened the legendary San Marcos-based venue in October 1974. "The regulars at songwriters night were me and a bunch of nobodies: Todd Snider, James McMurtry, Terri Hendrix, Bruce Robison, Hal Ketchum, John Arthur Martinez and sometimes Tish Hinojosa. Those were the regulars, and nobody had ever heard of them."
Finlay was already well-seasoned at giving breaks. After all, he'd already helped launch legendary blues guitarist Stevie Ray Vaughan, incendiary punk rockers the Skunks and several dozen other familiar names including country music icon George Strait, who played his first show with the Ace in the Hole Band at Cheatham Street on October 13, 1975. In fact, Finlay effectively changed modern country music history--all music history, frankly--in 1978, as he drove the King of Broken Hearts to Nashville to record his very first demo tapes shortly thereafter.
Celebrated guitarists Eric Johnston and Monte Montgomery, deep-browed songwriters Adam Carroll and Walt Wilkins, fiery live acts Joe King Carrasco and Charlie and Will Sexton--have emerged from his humble honky-tonk stage. Additionally, legendary singer-songwriters such as Marcia Ball, Guy Clark, Ray Wylie Hubbard, Willie Nelson, Billy Joe Shaver, Ernest Tubb, Townes Van Zandt and dozens more regularly stepped on the Cheatham stage throughout the 1970s Cosmic Cowboy heyday.
Music historians acknowledge Finlay and his venue's indisputable importance in shaping modern Texas music as well. "When the annals of Texas music are finally written, I have no doubt that Cheatham Street Warehouse will be compared to Washington-on-the-Brazos," said noted biographer Joe Nick Patoski (Willie Nelson: An Epic Life, Stevie Ray Vaughan: Caught in the Crossfire). "A humble little shed by the railroad tracks, it has nurtured, raised and showcased the greatest musicians this state has had to offer for the past [four] decades." "I'm proud of the great writers that have come out of there," Finlay said during an interview last year with his daughter Jenni for Kent Finlay, Dreamer (Texas A&M University Press, 2016). "Tom Russell and Doug Sahm played there in the 1970s, right up through Randy Rogers in the 1990s. So many have cut their teeth here."
Russell fondly framed his tenure. "I recall funky wood floors and cheap sweet wine in Mason jars and great music at Cheatham Street," the El Paso resident said. "Laid back. Down home. For me, the '70s were the highpoint of great music in Texas and Kent was on the front lines. He knew songs and loved songwriters and he had that old Texas drawl, a warm, big-hearted guy. Cheatham Street ranks with [Austin's] Armadillo World Headquarters and the old Split Rail on Lamar. It had the soul and the vibe: casual and crucial. They don't make venues like that anymore. You can't invent it."
Undoubtedly, the infamous railroad tracks behind the venue add atmosphere. "It's so unique when you're in the middle of a song and a train comes roaring by," Strait recalled. "Since Cheatham Street Warehouse sits right beside a railroad track, that's what you get. You just start playing louder."
Kent Finlay, born on February 9, 1938, in the geographical center of Texas, was raised in Fife. He created that soul and vibe that Cheatham Street is known for. Proof emerges in his songs. Finlay's finest narratives--earthy vignettes such as "They Call It the Hill Country," "I've Written Some Life," "Plastic Girl," "Reaching for the Stars" and "Comfort's Just a Rifle Shot Away"--measure proudly against the songwriters he's consistently championed over his lifetime.
Additionally, he co-wrote album cuts with several artists including Slaid Cleaves ("Don't Tell Me," "Lost"), William Clark Green ("Hangin' Around"), the Randy Rogers Band ("You Coulda Left Me"), Todd Snider ("Statistician's Blues," "24 Hours a Day"), and Walt Wilkins ("Blanco River Meditation #2"). (Plus, Rogers has recorded both Finlay's "They Call It the Hill Country" and "Plastic Girl.") Accordingly, Finlay kicked off songwriter night every Wednesday with his own high watermark "I'll Sing You a Story, I'll Tell You a Song."
Finlay maintained a singular focus his entire life. He wrote songs. Discovered and mentored promising songwriters. Created art. His business card tells the story of a life well lived: Kent Finlay: Dreamer.
For infomation, please contact Finlay family spokesperson, Brian T. Atkinson, at btamojonet@aol.com.