Meadows Center's Andy Sansom honored as hero of Gulf conservation
Posted by Jayme Blaschke
University News Service
June 9, 2015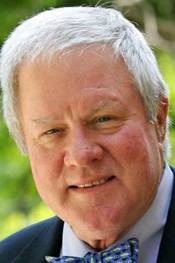 Andrew Sansom, executive director at The Meadows Center for Water and the Environment at Texas State University, has been named "Harte's Heroes: Champions of the Gulf" by the Harte Research Institute (HRI) for Gulf of Mexico Studies at Texas A&M University-Corpus Christi.
"It's important that we recognize these individuals who have done so much for our oceans, and the Gulf of Mexico in particular," HRI Executive Director Larry McKinney said. "We take so much for granted when it comes to our oceans. We do our share of abuse, but the Gulf still produces more than $1.4 billion of seafood for us annually, and will continue to do so as long as it remains healthy. These individuals we are honoring tonight are some of those who are helping to keep the Gulf healthy and productive for us long term."
Each year, the HRI commemorates World Oceans Day by recognizing individuals and groups who have dedicated their careers to protecting and preserving the Gulf of Mexico's natural resources. This year's ceremony honored five people who have been quietly working behind the scenes for decades to accomplish important conservation milestones.
"This event allows us to bring attention to our world's oceans and gives us a public way to honor our colleagues who have contributed to the betterment of the Gulf, an essential body of water," said Flavius Killebrew, president and CEO of Texas A&M University-Corpus Christi. "The health of the Gulf of Mexico is complex and requires dedicated individuals with different areas of expertise and interests. These five honorees have demonstrated not just their expertise, but their integrity and their ability to listen, communicate and stay focused and committed to conservation."
Sansom was chosen as a 2015 Champion for the Gulf for his work in advocating for the study of freshwater resources that flow into the Gulf of Mexico. Also as founder of the Texas Parks and Wildlife Foundation, he is responsible for the acquisition and protection of more than 500,000 acres of conservation lands in Texas.
About The Meadows Center for Water and the Environment
The Meadows Center for Water and the Environment was named following a generous gift from The Meadows Foundation in August 2012. The Meadows Center for Water and the Environment is dedicated to environmental research, stewardship, education and service. It is led by renowned conservationist Andrew Sansom.