Distinguished Professor Emeritus Hannon dies in drowning accident
Posted by Jayme Blaschke
University News Service
July 23, 2015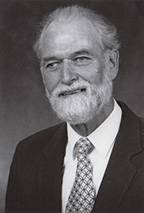 Daniel Hannon, a retired faculty member in the Texas State University Department of Theatre and Dance, died Wednesday in a drowning accident in the San Marcos River.
Hannon, 80, was awarded the title of Distinguished Professor Emeritus of Theatre in 2008.
Hannon came to Texas State in 1981 and established the bachelor of fine arts degree in theatrical design and technology, a program that is nationally recognized today.
In addition to teaching and mentoring thousands of students during his career, Hannon receive numerous awards for his work from such organizations as the Texas Educational Theatre Association, the Southwest Theatre Association, the American Theatre Association and the United States Institute for Theatre Technology. His theatrical designs have been featured in numerous exhibitions around the nation, and many of his designs have been acquired by the Tobin Theatrical Design Collection at the McNay Art Museum in San Antonio.
Hannon was tubing near Children's Park with his sister-in-law when she began having trouble and fell out of her tube. Hannon left his tube to assist her in getting back in her tube. According to officials, he told her that he was already tired, then attempted to swim back and get back into his own tube, which had floated to the opposite side of the river.
They were then separated by the strong current and lost sight of each other. The man's sister-in-law and nephew waited downstream on the bridge to the island at Rio Vista Park for him for between 10 and 15 minutes before calling police at 11:14 a.m. to report him missing.
San Marcos police officers, firefighters, park rangers and the San Marcos/Hays County EMS searched the river for him with no success. A diver from the San Marcos Area Recovery Team recovered Hannon, who'd been caught underwater in debris, at approximately 12:40 p.m.
Funeral arrangements are pending.