In Brief: Texas State recognized for 'Best Online Masters in Social Work'
Posted by Jayme Blaschke
University News Service
February 26, 2015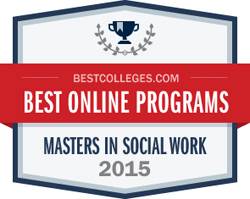 Texas State University has been recognized for having one of the "Best Online Masters in Social Work Programs of 2015" by the website BestColleges.com.
Texas State ranked 11th overall on the list.
Council on Social Work Education-accredited MSW programs in the United States were evaluated on acceptance rate, retention rate, graduation rate and enrollment rate. The most recent set of data used is for the 2011-2012 school year, though some individual data points reflect the 2012-2013 school year.
The complete list may be found at www.bestcolleges.com/features/top-online-masters-social-work-programs.