In Brief: School of Health Administration ranked among 'Most Innovative'
Posted by Jayme Blaschke
University News Service
February 26, 2015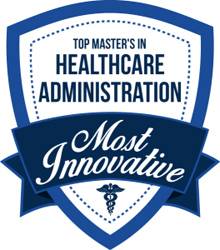 The School of Health Administration at Texas State University has been named one of the 50 Most Innovative University Healthcare Administrative Departments by the Top Masters in Healthcare Administration website.
The School of Health Administration ranked No. 22 on the list.
To be considered for selection, institutions must offer at least a Master's in Health Administration program accredited by the CAHME (Commission on Accreditation of Healthcare Management Education); a variety of degrees to meet the individual needs to those interested in administration; active student associations and alumni programs providing professional development and networking opportunities; and faculty that are engaged in research in the field.
Qualifying institutions were then evaluated on additional criteria: Master in Healthcare Administration (or other accredited program) with a residency opportunity or internship; providing opportunity for international involvement either through coursework, case study or international lab; employment rate after graduation reported to be greater than 90 percent; and varying program delivery methods including online and executive programs.
The complete list may be found at www.topmastersinhealthcare.com/innovative-university-healthcare-administration-departments.