Encore Series event "Glorious Visions" blurs line between real, unreal
Posted by Jayme Blaschke
University News Service
February 5, 2015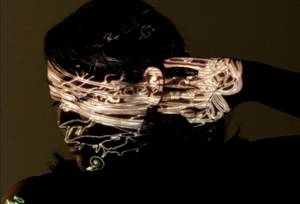 The Encore Series at Texas State University will present Miwa Matreyek's "Glorious Visions--A Multimedia Presentation" 7:30 p.m. Friday, Feb. 20.
The event will be held in Evans Auditorium on campus and is open to the general public. Adult tickets are $20 reserved and $13 general admission, and student tickets (with a valid Texas State ID) are $10 reserved and $5 general admission. Tickets may be purchased online at http://txstatepresents.universitytickets.com//user_pages/event.aspx?id=1586&cid=120.
Matreyek's work blurs the line between real and unreal. In live works that integrate animation, performance and video installation, she explores how animation changes when it is combined with body and space (and vice versa). In her video projects, animation takes on a more physical and present quality, while body and space take on a more fantastical quality.
Matreyek's performance can be viewed as a cinematic experience taking place on a screen. What is seen on the screen is a collapsed product of multiple layers of animation, objects and body. Her work exists in a juxtaposition of illusion and nonillusion. Matreyek is also a founding member of the performance media group Cloud Eye Control, which makes theatrical productions with cleverly integrated animation projections.
For more information, visit www.semihemisphere.com or contact the Texas State University Arts Committee at (512) 245-3501 or via email at em16@txstate.edu.