In Brief: Bridges to Biomedicine student recognized at SACNAS National Conference
By Alyssa Phillips
Office of Media Relations
December 3, 2015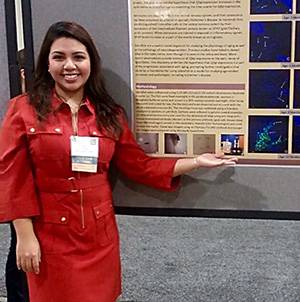 Zara Flores, a student in the Bridges to Biomedicine program at Texas State University, was awarded the Outstanding Poster Presentation award at the 2015 Society for Advancement of Chicanos/Hispanics and Native Americans in Science (SACNAS) National Conference in Washington, D.C.
Flores' presentation, titled "Development of GFAP Expression in the Optic Nerve of Zebra Fish," covered research conducted this summer under the supervision of Dana Garcia in the Department of Biology.
The Bridges to Biomedicine program is funded by the National Institute of Health and allows students from Northwest Vista College and San Antonio College interested in biomedical research to experience undergraduate research at Texas State. Flores is a student at Northwest Vista College in San Antonio.
SACNAS is a society of scientists dedicated to fostering the success of Chicano/Hispanic and Native American scientists – from college students to professionals – to attain advanced degrees, careers and positions of leadership in science.
For more information, contact Esther Lee at el1026@txstate.edu.