Author Daniel Orozco to visit Alkek Library, KAP Literary Center
By Alyssa Phillips
University News Service
August 31, 2015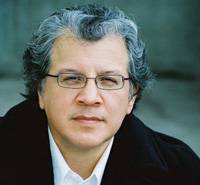 The Katherine Anne Porter Literary Center and The Wittliff Collections will host reading and book signings by Daniel Orozco, author of the short story collection, Orientation and Other Stories, September 10-11.
The Alkek Library event will begin at 3:30 p.m. September 10, and at 7:30 p.m. on September 11 at the Katherine Anne Porter Literary Center in Kyle. All events are free and open to the public. Books will be available during and after the event through the University Bookstore and Barnes and Noble.
Currently a creative writing professor at the University of Idaho, Orozco won a 2006 National Endowment for the Arts fellowship and was a recipient of the Whiting Writers Award in 2011. His work has appeared in McSweeney's Harper's Magazine, StoryQuarterly and Zoetrope, as well as Best American Short Stories, Best American Essays and the Pushcart Prize anthology.