Becky Hammon to keynote Texas State's New Student Convocation
Posted by Jayme Blaschke
University News Service
August 11, 2015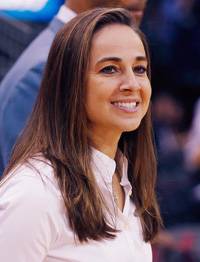 Becky Hammon, retired professional basketball player and current assistant coach with the San Antonio Spurs, will deliver the keynote address at Texas State University's New Student Convocation at 3:30 p.m. August 22.
More than 8,900 new freshman and transfer students are expected to attend the convocation, held in Strahan Coliseum on campus.
In August 2014, Hammon became the first woman to become a full-time coach in the National Basketball League when the Spurs named her an assistant for the 2014-2015 season. In 2015, Hammon became the first-ever female head coach in the NBA's Summer League when the Spurs announced she would coach their team. Hammon led the Spurs to the Las Vegas Summer League title, becoming the first female NBA head coach to win a summer league title.
A native of South Dakota, Hammon played collegiate ball for Colorado State University before turning pro, signing with the New York Liberty of the Women's National Basketball Association as an undrafted free agent in 1999. A six-time WNBA All-Star, Hammon retired as a member of the San Antonio Stars in 2014.