Texas State theatre students bring home Kennedy Center awards
Posted by Jayme Blaschke
University News Service
April 23, 2015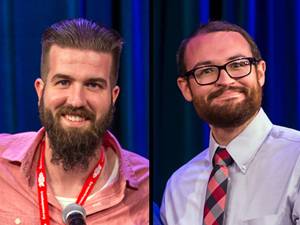 Texas State University theatre students Jordan Morille and Kevin Talley took home national honors at the Kennedy Center American College Theatre Festival (KCACTF) April 13-18 at the Kennedy Center in Washington D.C.
Morille won the John Cauble Short Play award for Norma's Rent--the third year Morille has advanced to nationals in this category.
Announced prior to the KCACTF was Talley's win of the Ken Ludwig Playwriting Scholarship for best body of work. This marks the fourth straight year a Texas State student has won this award. Talley also placed second in the Harold and Mimi Steinberg National Student Playwriting Award for Snake Oil, winning membership in the Dramatists Guild and with the Playwrights' Center in Minneapolis, as well as a professional development residency to be determined later.
Other Texas State students competing included Joel Britt, who took second place in the O'Neil Lighting Fellowship for his lighting design in Rent, and Trey Sanchez, who attended the national festival as the Stage Management National Fellowship recipient. Shelby Acosta also traveled to Washington as the Musical Theatre Initiative Regional Winner, where she performed the song "Breathe" as Nina from In The Heights and received a standing ovation.
For more information, contact Sara Mitschke at (512) 245-3572 or via email at s_m421@txstate.edu.