In Brief: Musician Manuel 'Cowboy' Donley headlines career retrospective at Texas State
Posted by Jayme Blaschke
University News Service
April 15, 2015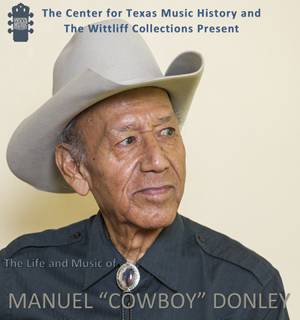 The Center for Texas Music History and The Wittliff Collections at Texas State University will host "The Life and Music of Manuel 'Cowboy' Donley" at 6:30 p.m. Thursday, April 16.
The event will be held in The Wittliff Collections on the 7th floor of Alkek Library on campus. Admission is free and open to the public.
The evening will feature live music from Donley along with discussions by music scholars Evaliza Fuentes and Kim Simpson.
Performing in Austin since the 1940s, Donley's career reflects the rich history of Mexican-American music in Texas from traditional ballads to orquesta tejana and even the electrical amplification of rock 'n' roll. In June 2014, the National Endowment for the Arts awarded Manuel "Cowboy" Donley the National Heritage Fellowship in recognition of his contributions to American music.
For more information, visit www.txstate.edu/ctmh.