Sport Science Institute's Hainline to give Brennan and Smith Lecture
Posted by Jayme Blaschke
University News Service
April 16, 2015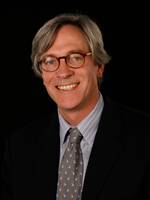 Dr. Brian Hainline, Medical Director of the Sport Science Institute for the NCAA, will be the Spring 2015 Brennan and Smith Lecturer for the Department of Health and Human Performance at Texas State University.
His lecture, entitled "Mind, Body and Sport: An Update on Collegiate Athletic Health and Safety," will be delivered 7 p.m. April 27 in the Alkek Teaching Theater. The lecture and reception following are free and open to the public.
As the first person to hold the position of chief medical officer for the National Collegiate Athletic Association (NCAA), Hainline oversees the NCAA Sport Science Institute, whose mission is to promote and develop safety, excellence and wellness in college student-athletes, and to foster life-long physical and mental development. The NCAA Sport Science Institute works collaboratively with member institutions across the United States.
Active in sports medicine for more than 20 years, Hainline co-authored Drugs and the Athlete and played a pivotal role the development of drug testing and education protocols worldwide. He has served on the New York State Medical Advisory Board, the USOC Sports Medicine Committee, and was a founding member of the Executive Committee of the American Academy of Neurology Sports Neurology Section, where he continues to serve as councilor and chair of the strategic planning group.
A graduate of Notre Dame and Chicago's Pritzker School of Medicine, Hainline completed his neurology residency at the New York Hospital-Cornell, where he was mentored by Fred Plum and Jerome Posner. He began his neurology career in neuro-oncology, but shifted to sports neurology and pain medicine when he joined the New York University faculty, where he was director of clinical/orthopedic neurology at NYU-Hospital for Joint Diseases.
For more information, contact Luzita Vela at (512) 245-1971 or via email at lv19@txstate.edu.
About the Brennan and Smith Lecture
The Department of Health and Human Performance invites two distinguished scholars annually to deliver a Brennan and Smith Lecture. These lectures address current and important topics in athletic training, exercise and sports science, health education, physical education teacher education, recreation, personal fitness and wellness education. Funding for this lecture series was provided by the estate of Molly Ann Brennan. Brennan-Smith was a 1949 physical education graduate of Texas State who was influential in her service to education and research in the Houston area and the university.