Timothy Dowd to keynote music-focused Couch-Stone Symposium
Posted by Jayme Blaschke
University News Service
March 14, 2014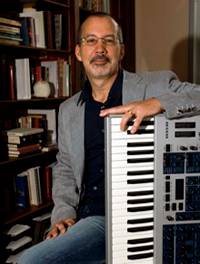 Timothy Dowd
Timothy J. Dowd, professor of sociology at Emory University in Atlanta, will serve as the keynote speaker for the Couch-Stone Symposium March 27-29 at Texas State University.
The Center for Social Inquiry and the Department of Sociology at Texas State are hosting the intimate symposium focused on the theme "Symbolic Interactionist Takes on Music." They keynote address will be 1:30 p.m., Friday, March 28 at the Wittliff Collections in Alkek Library on campus.
Dowd specializes in cultural sociology, focusing on such issues as the evolving orchestral canon, the evolution of the recording industry, musician careers, underground music festivals, and the state of music sociology. He was the Erasmus Chair for the Humanities (Rotterdam, 2007) and Fulbright Specialist at the University of Amsterdam (2013). He currently is chair-elect of the Sociology of Culture Section of the American Sociological Association, and he is editor-in-chief of Poetics: Journal of Empirical Research on Culture, Media and the Arts.
The symposium will explore the long history of symbolic interactionist interest in music, ranging from Howard Becker's seminal work on jazz musicians to contemporary studies of music festivals, the impact of popular music on one's self-identity and other exciting topics. Sociological discussions will cover the Beatles, Lou Reed, Katy Perry, local music scenes, film music, Christian hip hop, Israeli rap and Tejano music. Presenters include some of the most respected sociological scholars of music in the United States, Canada, Germany, the Netherlands and Sweden.
The symposium is supported by the Society for the Study of Symbolic Interaction, the Couch family and the Center for the Study of the Southwest.
The symposium is free to attend. For additional information, contact Joseph Kotarba, director of the Center for Social Inquiry, at (512) 245-8905 or via email at jk54@txstate.edu.