Eugene Lee directs his original play, 'Somebody Called,' at Texas State
Posted by Jayme Blaschke
University News Service
February 11, 2014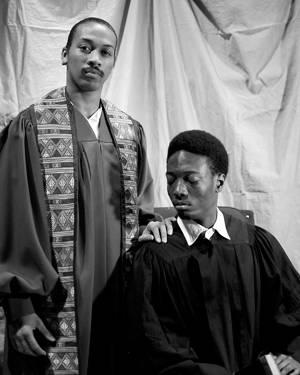 Cameron McKnight (left) as Rev. Billy Ray Jackson and Chas Harvey as Dean Hawthorne in Eugene Lee's "Somebody Called."

(Photo by Joel Britt)
Texas State University's Department of Theater and Dance will present Somebody Called Feb. 18-22 at 7:30 p.m. and Feb. 23 at 2 p.m. on the main stage of the Theatre Center.
Written and directed by Texas State artist-in-residence Eugene Lee, Somebody Called is a tale of two preachers--one with feet of clay and one with a genuine calling to serve the church and not be served by the church. Set in the 1950s, the play examines the onset of the civil rights movement from the perspective of an all-black town.
Tickets are $15-18 for general admission and $8 for students with a valid Texas State ID. To purchase tickets, visit www.txstatepresents.com or call the box office at (512) 245-2204.
Special Event Parking for all fine arts events occurring in the Theatre Center and Performing Arts Center is now only available in the Edward Gary Street Garage, located on the corner of University Drive and Edward Gary Street for a flat fee of $5 per event. The garage attendant will only be accepting cash. Credit/debit card transactions will not be accepted for special event parking.
For more information, contact the Texas State Department of Theatre and Dance at (512) 245-2147.