Texas State hosts 2013 Black and Latino Playwrights Conference
By Daniel Palomo
University News Service
September 9, 2013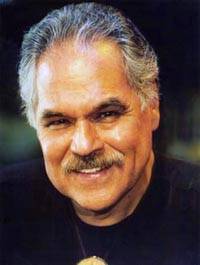 Luis Valdez
Texas State University and the Department of Theatre and Dance will host the 11th annual Black and Latino Playwright Conference Sept. 13-15.
The conference is a multicultural theater event celebrating influential black and Latino playwrights from around the nation. This year, students will perform readings with professional actors and directors honoring the "father of Chicano theater," Luis Valdez. Founder of El Teatro Campesino, a farmworker's theater company associated with Cesar Chavez and the United Farm Workers, Valdez later adapted some of his plays for the big screen. His most notable success was the 1987 release "La Bamba," the biographical movie about the rock and roll singer Ritchie Valens.
According to Eugene Lee, the artistic director for the conference, students will gain an invaluable experience working with professional actors, playwrights and directors of color.
"The conference's aim is to help underserved populations experience professional theater," Lee said. "They get to sink their teeth into stories about themselves."
A reading of "Sangre y Viento" by Adam Esquenazi Douglas and directed by Kinan Valdez will take place on Sept. 14 at 7:30. On Sept. 15 at noon, a reading of "Eugene" by Amina Henry and directed by Jeremy Bloom will take place. Tickets to the readings will be $5 and be held at the Theatre Center main stage.
Cameron McKnight, a theatre senior, was involved with the conference the past three years and in 2012 played Rolando in the conference performance of "Seven Sisters."
"Last year was amazing, the public really gets a chance to be involved through the open rehearsals and such," McKnight said. "It's a very enlightening experience."
The conference includes panel discussions, a brown bag lunch with the guest artists and open rehearsals throughout the week.
For more information about the conference and related events, please contact the Department of Theatre and Dance at (512) 245-2147. To purchase tickets, call the Texas State Box Office at (512) 245-2204.