MIT's Ethan Zuckerman to deliver Common Experience lecture
Posted by Jayme Blaschke
University News Service
October 26, 2012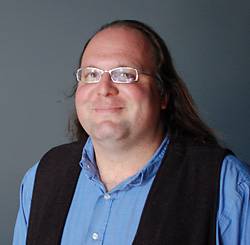 Ethan Zuckerman
Ethan Zuckerman, director of MIT's Center for Civic Media, will give the Fall Common Experience lecture, "The Internet: Power and Unrealized Potential," at Texas State University, Monday evening, Oct. 29, at 7 p.m. in Evans Auditorium.
Zuckerman was named one of the 100 most influential thinkers in the world by Foreign Policy in 2011. He will address the 2012-2013 Common Experience theme, "A Global Odyssey: Exploring Our Connections with the Changing World."
Zuckerman will also be interviewed by representatives from student media in a session during Mass Comm Week at 3:30 p.m. in Alkek 250 Oct. 29. Students and the public are invited to attend. Details and schedule for Mass Comm Week are available at txstatemcweek.com.
These events are free and sponsored by Student Service Fees and the Common Experience at Texas State.
A self-described activist, blogger and geek concerned with how citizen's media affect "longstanding biases in the news media," Zuckerman put his concern into action by co-founding Global Voices. An award-winning international community of bloggers, Global Voices maintains an international citizen media newsroom, tracks censorship and advocates for freedom of speech online, supports grassroots citizen media efforts and is a pioneer in the space of social translation. Global Voices' work has been supported by the MacArthur Foundation, Ford Foundation, Knight Foundation, Hivos, Open Society Institute as well as Google, Reuters and private donors. Zuckerman chairs Global Voices' global board of directors.
As a senior researcher at the Berkman Center for Internet and Society at Harvard University, Zuckerman works on projects that focus on the impact of technology and media on the developing world and on quantitative analysis of media.
In his other role as director of MIT's Center for Civic Media, Zuckerman contributes both to the understanding of the role and power of civic media in the broader media ecosystem, and builds tools that help communities around the world share their perspectives and stories.
Zuckerman also maintains the blog, My Heart's in Accra, where he writes about the happy distractions of sumo, the roots of South African music and ways to connect with others around the world. He lives in the Berkshire Mountains of western Massachusetts with his wife Rachel and son Drew.
About the Common Experience
The Common Experience is a year-long initiative of Texas State designed to cultivate a common intellectual conversation across the campus, to enhance student participation in the intellectual life of the campus, and to foster a sense of community across our entire campus and extended community. For more information, see www.txstate.edu/commonexperience/ or contact Ani Yazedjian at ay12@txstate.edu.