School of Music hosting 14th annual Feria del Mariachi festival
By Kristina Kenney
University News Service
October 31, 2012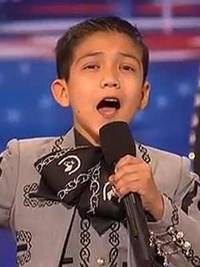 Sebastien De La Cruz

The Texas State University School of Music will host the 14th annual Feria del Mariachi conference and festival March 22-23 at various venues in San Marcos.
The two-day list of festivities includes a mariachi competition for middle school, high school and college-level ensembles, workshops on vocal and instrumental techniques and a finale concert at the Embassy Suites Convention Center in San Marcos.
This year's conference will also feature 10-year-old mariachi vocalist Sebastien De La Cruz of America's Got Talent fame and internationally recognized Latin Grammy Award nominee Aida Cuevas of Mexico.
The mariachi competition will take place March 22 from 6-10 p.m. at the LBJ Student Center on campus. Workshops will also be held at the student center on March 23 from 8 a.m.-4 p.m. The finale concert will be held March 23 at 7:30 p.m. Doors will open at 7 p.m.
Tickets for the finale concert are $10 for students with valid Texas State identification, $15 for general admission and $20 for preferred seating. Tickets will go on sale Jan. 1 and will also be available March 23 from noon-8 p.m. at the door.
Feria del Mariachi's mission is to promote mariachi education and culture in schools and the community by exposing students to successful figures in the mariachi community and providing them a chance to meet other young musicians.
Registration packets for the mariachi competition and workshops will be available Jan.1. The late registration deadline for applications and fees is March 20.
For additional information, contact the School of Music at (512) 245-2651, email info@feriadelmariachi.com or visit www.feriadelmariachi.com/.