Texas State hosts presents fall musical fantasy 'Into the Woods'
By Judy Lynn Drazan
University News Service
November 6, 2012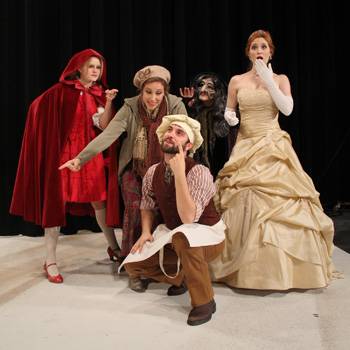 Little Red Ridinghood, Morgan MacInnes; Baker's Wife, Annie Wallace; Baker, Ian Saunders; Witch, Alex Zeto; Cinderella, Jessica de Jong. (Photo by Jeremy Kent White)
The Department of Theatre and Dance will present "Into the Woods," a fairy tale themed musical at 2 p.m. Nov. 18 and 7:30 p.m. Nov. 13-18 at Texas State University.
The performances will be held in the University Mainstage Theatre on campus. Admission is $7 for students and $12 for the general public. Tickets will go on sale beginning at 10 a.m. Nov. 5.
The musical is directed by Michael Costello and choreographed by Cassie Abate. The music is directed by Greg Bolin, and the music and lyrics are written by Stephen Sondheim.
For reservations and ticket information, contact the Texas State Box Office at (512) 245-2204. For additional information, contact (512) 245-2147.